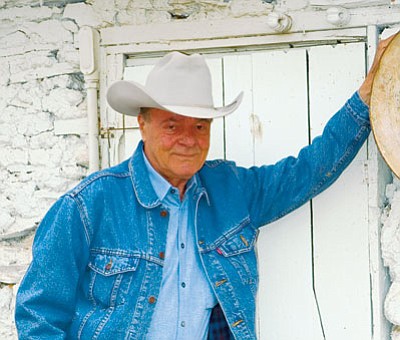 Originally Published: August 21, 2013 11:02 a.m.
In 1938, Johnie Lee and Norman Fain brought the newborn Bill Fain, the fourth generation of the ranching family, home to Yaeger Canyon, at the base of Mingus Mountain, to a house that still stands today.
Seventy-five years later, Fain looks at the community of more than 40,000 people that has emerged, and owns he's proud of the Prescott Valley that has transitioned from a "bedroom community" to Prescott into a vibrant town with its own strong identity. He's not ready to ride off into the sunset just yet, however.
"I'm still vitally interested in seeing Prescott Valley mature to a point where it can support all the amenities that people would like to have," he said.
That will require continued leadership with a good understanding of the business community, he said, and strong businesses that can survive the economic cycles that come and go.
Fain said the reason Prescott Valley did better than many communities in the past several years of recession is its fiscal leadership.
"The mayor and council have been consistently working with a balanced budget," he said. "The town has a strong financial base, and that's what gives it sustainability. When there are rough times you can weather them," he said.
While Fain said he feels construction will again be a large part of Prescott Valley's economy, he doesn't think the town will again see the kind of boom it had in 2005 and 2006.
"We still have adequate resources for expansion, and growth will be more stable, but consistent," he said.
As it moves forward, Fain said, Prescott Valley must continue to make an expanded job base and development of water resources a top priority. A solid business base is crucial to Prescott Valley having independence from resources such as government money that comes and goes as the economy cycles, and to having the money for amenities to improve its quality of life.
"Healthy local businesses are fundamental to all the rest," he said.
Fain, still at the helm of Fain Signature Group, hasn't forgotten his cowboy past, and how it affects his business today.
"It made us more conservative," he said. "We knew the value of a dollar, and we were committed to seeing things through. There was a standard in business - your word was good. Sometimes that doesn't turn out too good, but that's the way it is, and you see it through."
As a young man, he dreamed of building a town. Today, he's still doing just that.
"We made the decision not to sell land for speculation. We sell it to the user. It's satisfying when people feel like (Prescott Valley) has become their home. That was our objective, and it still is."