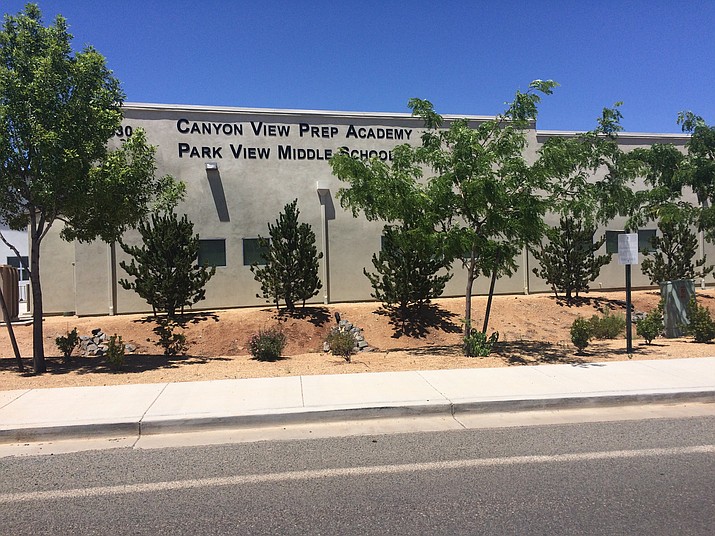 Photo by Jason Wheeler.
Originally Published: June 22, 2016 5:41 a.m.
College can be expensive, so much so that many graduates are still working on paying off student loans long after they've left.
A traditional college prep high school, Canyon View Prep School realizes the cost of college and that families would like a chance to have help with it, said Principal Debra Slagle. She spoke of the trend with of offering dual enrollment, going to high school and having the opportunity to come out with a diploma and an associate's degree or two years of college. As such, the school now has a partnership with Grand Canyon University through the Canyon Educational Participant Program, which will allow the students to freely get a traditional high school education along with dual credits.
"Sometimes you're sacrificing the experience of a traditional high school or getting those college credits," Slagle said. "What we try to do is create an environment where high school students can still have that traditional high school experience but they can work on the college credit at the same time."
Slagle said she has been familiar with Grand Canyon University and the relationship that Canyon View has entered into with the university will allow the students to be eligible for more scholarship money as well as discounts on tuition if they choose to attend after graduation. It allows for the possibility of the students having two years of college done upon graduation, she said.
The Canyon Educational Participant Program offers opportunities focused on attracting, regaining and maintaining professionals in education and educational leadership, according to the program's website.
"Professional education programs at Grand Canyon University are designed to support and promote the University's mission to prepare learners to become global citizens, critical thinkers, effective communicators and responsible leaders," the website states.
Offering dual enrollment was always on her mind when adding the high school to Park View Elementary School in 2011 and she was trying to figure out the best vehicle for that, Slagle said. Grand Canyon University has a lot going on, it's growing and if students get their core credits out of the way, it can be very advantageous, she said.
However, the partnership with the university isn't the only avenue Canyon View offers, Slagle said. This fall, the school is offering video game design through Yavapai College.
"There's a real push right now for students to learn coding," she said. "It's a pretty in-demand career right now."
The school has also had an ongoing relationship with Mountain Institute's Joint Technical Education District (JTED) program. Canyon View has a strong commitment to helping students have multiple pathways to be prepared so they have a plan when they graduate, Slagle said.
As the future comes closer, Slagle said she sees the opportunities expand with the partnerships they have.
"I think it's important for schools to be able to turn on a dime in response to the needs of their students," Slagle said. "That's one of the great advantages we have of being small, we can respond to the needs of our students very quickly. I can see us in the future growing in our relationship with GCU so we have more students going directly there."