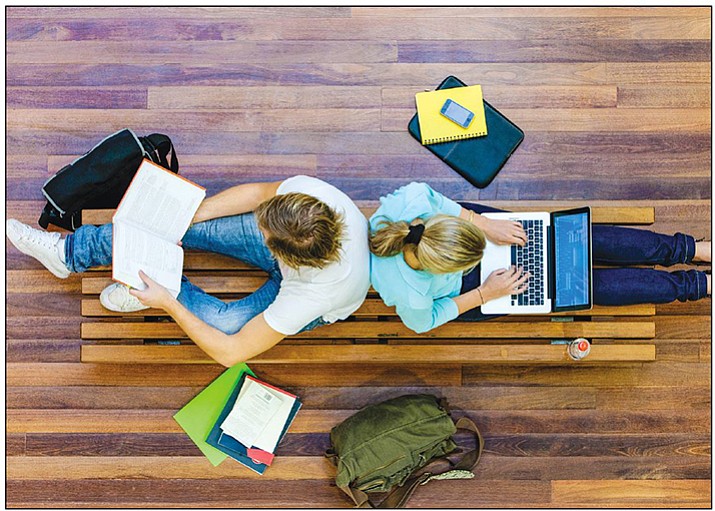 Originally Published: April 12, 2017 6 a.m.
Happy new homeowners we are to Prescott. Our new home has hardwood floors and we have always had carpet in our previous homes. Is there some basic care we should be following? — Paul and Anita, Prescott
In talking with Sylvan Incao, owner of Desert Hardwood Floors and Charlie Benghauser of Delta Plus they both say that the first thing to do in speeding up the cleaning process and taking care of your floors is to use a dusting agent to pick up dust, dirt, and pet hair that might scratch the floor surface. For weekly or biweekly cleaning, vacuum with a floor-brush attachment on a vacuum cleaner or an electric broom. Do not use a vacuum with a beater bar attachment, which can scratch a wood floor's finish. For quick dusting, use disposable electrostatic cloths.
Determine the Finish
Before you grab a bucket of water and a mop, it's best to find out how your hardwood floor is sealed—if at all. Why? The finish, not the wood type, determines how you clean and care for the floor.
Charlie said "consider your floor's finish before trying to remove a mark." If the stain is on the surface, your floor probably has a hard finish, such as urethane. If the stain has penetrated through to the wood, the floor probably has a soft oiled finish — common in older homes whose floors have not been refinished and resealed. Wipe surface stains from a hard finish with a soft, clean cloth. Never use sandpaper, steel wool, or harsh chemicals on such a surface because they can permanently damage the finish.
The following remedies are for hardwood floors with soft oiled finishes
Dark spots and pet stains: Rub the spot with No. 000 steel wool and floor wax. If the area is still dark, apply bleach or vinegar and allow it to soak into the wood for about an hour. Rinse with a damp cloth.
Oil-base stains: Rub the area with a soft cloth and dishwashing detergent to break down the grease. Rinse with clear water. If one or more applications don't work, repeat the procedure. Keep children and pets out of the room until you're done. Let the spot dry and then smooth the raised grain with fine sandpaper.
Water marks or white stains: Rub the spot with No. 000 steel wool and floor wax. If the stain goes deeper, lightly sand the floor and clean with fine steel wool and odorless mineral spirits.
Surface-sealed floors: Most new wood floors are sealed with urethane, polyurethane or polyacrylic. Surface-sealed floors are stain and water-damage resistant and easiest to care for and clean: Sweep, mop and you're done!
Penetrating-seal-treated and oil-treated floors: Also common, a penetrating seal or oil finish soaks into the wood grain and hardens. This type of floor must be pampered and protected with liquid or paste wax.
Lacquered, varnished, shellacked and untreated floors: Although technically surface finishes, lacquers, varnishes and shellacs are not as resistant to moisture, spills and wear as the other sealants mentioned. Treat floors with these finishes and floors with no finish as you would penetrating-seal-treated and oil-treated floors.
Not sure what kind of finish you have? To tell the difference in a pinch, just rub your finger across the floor. If no smudge appears, the floor is surface sealed. If you do create a smudge, the floor has been treated with a penetrating seal, oil finish, shellac, varnish or lacquer, and then waxed.
Cleaning Sealed Floors
Don't use straight ammonia, alkaline products or abrasive cleaners. They'll dull or scratch the finish.
Do use a floor-cleaning product recommended by the floor finisher or opt for plain soap and water.
Don't rely on water alone or a vinegar and water solution to clean hardwood floors. Mopping with water will result in dingy-looking floors and won't-budge dirt buildup. Vinegar and water is not as effective as soapy water and — some suggest — may dull floors sooner.
Routine Cleaning
In high-traffic areas, like the dining room and kitchen, you should sweep daily, if possible, and mop once or twice a week. Mop less-trafficked areas once a month or once a season.
Mopping Technique
Remember: Water is wood's worst enemy (even on sealed floors!), so use a damp mop rather than a soaking wet one.
Dip the mop into the bucket of prepared cleaning solution, wring it out completely, mop in the direction of the wood grain and repeat. When the water gets dirty, empty the bucket, mix a new batch of cleaning solution and continue mopping.
When finished, go back over the entire surface with clean water to rinse.
3 Must-Follow Rules
To extend the life of your hardwood floor no matter what the finish, keep in mind these three simple rules:
Sweep or vacuum often. Ground-in dirt destroys wood floors. To prevent buildup, clean floors once or twice a day in high-traffic areas, like the kitchen and dining room. No time? Cut down on sweeping time by placing a doormat at each entrance to your home. (Some estimates suggest that doormats eliminate 80 percent of the dirt tracked inside!)
Wipe up mud and spills immediately. Wood is easily damaged by water.
Remember to tune in to YCCA's Hammer Time every Saturday and Sunday morning 7 a.m. on KQNA 1130 AM/99.9 FM or 95.5 FM or the web kqna.com. Listen to Sandy and Mike talk about the construction industry, meet your local community partners and so much more.
Sandy Griffis is executive director of the Yavapai County Contractors Association. Email your questions to her at ycca@cableone.net or call 928-778-0040.