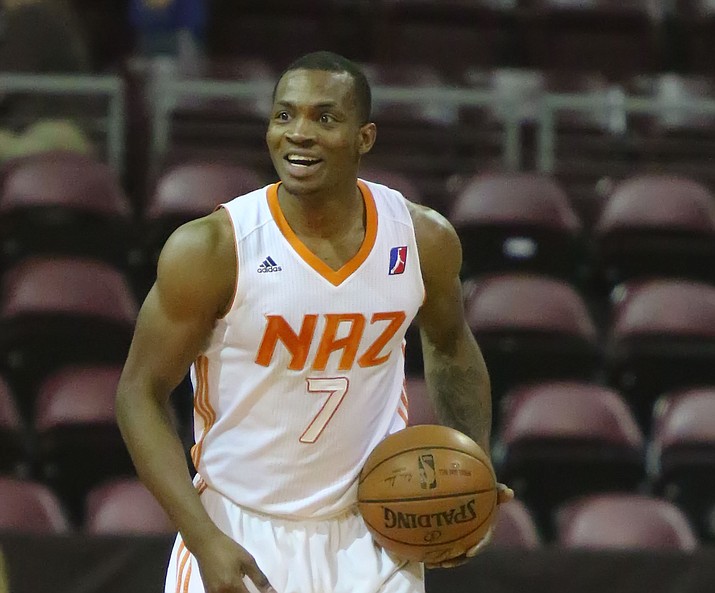 Originally Published: April 12, 2017 11:30 p.m.
Dozing off on his living room couch in front of the television back home in Atlanta, Elijah Millsap received the phone call he's been waiting for all season at the most unexpected time.
On the line was Millsap's agent, who was informing the Northern Arizona Suns' star guard he was heading to the NBA, but this time with the parent-club Phoenix Suns, who were eager to sign him to a multi-year deal.
"They wanted to reward me for all that hard work," Millsap said about his tenure with the NBA D-League Suns in Prescott Valley. "I'm happy and appreciative. It's a blessing."
It is the eighth NBA franchise Millsap will suit up for as he's spent time with Utah, Oklahoma City, Los Angeles, Milwaukee, Detroit, Atlanta and Philadelphia.
Millsap will wear No. 22 for Phoenix in honor of his late college teammate Cameron Moore, who died unexpectedly Oct. 4, 2016, after collapsing in the last 15 minutes of a basketball practice with the AV Ohrid in Macedonia.
During the inaugural Suns campaign in Prescott Valley, the 6-foot-7, 215-pound guard led the club in scoring with 19.8 points per game, shooting at a 42.8 percent clip. He also averaged eight rebounds and four assists per game.
Northern Arizona (22-28) finished third in the Pacific Division and did not qualify for the D-League playoffs out of the Western Conference.
The former UAB standout received the call up April 9, playing in the final two games for Phoenix this season. Millsap scored three points and grabbed four rebounds in 11 minutes played against the Sacramento Kings in a 129-104 loss Tuesday.
Phoenix Suns general manager Ryan McDonough said Millsap did a "great job for the Suns organization this year."
"He was the ultimate professional and one of the better players in the D-League when he played for the Northern Arizona Suns," McDonough said, adding they tracked his progress throughout the 2016-2017 campaign.
McDonough praised Millsap for his professionalism.
"He continued to work the entire year, even toward the end of the season where, in his mind, it looked like he may not get called up, he continued to grind and play very effectively and we noticed that," McDonough said.
Millsap's contract is non-guaranteed for the 2017-2018 season, but the Suns now have the ability to invite him to training camp and be part of the training program this summer.
"They can track my progression from where I am now," Millsap said. "It will be all about my work and how hard I work. I'm glad they took a chance on me."
Millsap's tenure with Northern Arizona may not be over as Phoenix may assign him to the D-League, making his situation similar to what Derrick Jones Jr.'s deal was this past season, having bounced back and forth between the NBA and the D-League.
With that, Northern Arizona head coach Tyrone Ellis said he was proud of Millsap for his commitment to the process on and off the court.
"He was a leader and mentor to the players and brought it every game and every practice," Ellis said. "It means a lot to our culture (as a basketball team) that Eli was rewarded for his hard work and professionalism."
Brian M. Bergner Jr. is associate sports editor for The Daily Courier. Follow him on Twitter, Instagram, Periscope and SoundCloud at @SportsWriter52, or on Facebook at @SportsAboveTheFold. Reach him at bbergner@prescottaz.com or 928-445-3333, ext. 1106.