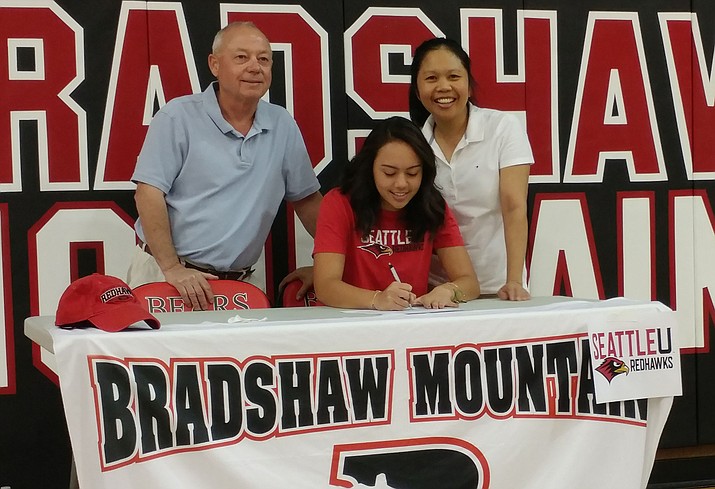 Originally Published: April 14, 2017 6:05 a.m.
Six Bradshaw Mountain senior student-athletes on Thursday afternoon signed letters of intent to play college athletics, three of whom will attend in-state schools, starting with the 2017-18 academic year.
At a brief signing ceremony inside Gary Kunow Gym on the Prescott Valley campus, Elah Alvis, Noah Barros, Blake Huntley, Jacob Kidd, Anne Transier and Haley Young announced that they are moving on after graduation in May.
Alvis, a veteran starting point guard for the Bears' girls' basketball team, will suit up as a shooting guard/back-up point guard for NAIA D-I Arizona Christian University in Phoenix, where she will study elementary education. Alvis, an honors student at Bradshaw who will receive mostly an academic scholarship, said she plans to teach fourth grade.
"I wanted to go to a Christian school, so that kind of narrowed it down," said Alvis, whose father, Justin, attended the ceremony. "And then I wanted to go in-state, just because I didn't want to have to be worried about paying more just to come home into my family."
Barros, the starting ace pitcher for Bradshaw Mountain baseball, plans to pitch and play third base at Glendale Community College (GCC), a traditionally sound NJCAA Division II program.
Barros' cousin, Tyler Vanderham, is a former Gaucho who introduced Barros to the facilities at GCC. His father, Manny Barros, also played a significant role and attended Thursday's signing.
Noah credited Bradshaw Mountain baseball coach Brian Bundrick, a former NCAA D-I pitcher, with improving the 6-foot-2, 180-pound righty's mechanics on the mound.
Noah, who plans to major in general business, added that Glendale has "a really solid pitching staff." He wants to play at least one season at Glendale in hopes of earning a roster spot at a four-year university.
"I really like their coach, their players – there's a great energy there," said Noah, who's known for the past 2-1/2 months that he would play for GCC. "My dad definitely helped me get there, get to this point. So, I'm really thankful for everything he's done for me."
Huntley, the Bears' baseball team's shortstop who started at shooting guard for the basketball squad this past winter, will play baseball at NCAA Division II Bemidji State University in Bemidji, Minnesota.
He will attend Bemidji on an academic scholarship and study secondary education because he wants to be a high school U.S. history teacher. Blake's older brother, Casey, and parents, Don and Annette, attended the signing.
"My dad's family originally is from South Dakota, so I wanted to be somewhere near his family," said Huntley, who committed to Bemidji State in early March. "I looked up schools in Minnesota, and the name Bemidji caught my eye – that's different."
Kidd, a 2017 AIA Division II state runner-up in wrestling at 220 pounds, will wrestle at 197 pounds for NCAA D-III power Olivet University in Olivet, Michigan, a 30-minute drive south of Lansing.
"I like the feel, and we got a good offer for scholarships, and I just decided that's where I wanted to go," Kidd said of Olivet. "We were looking at probably five [colleges] seriously, but we had probably 15 through emails and calls and stuff."
Kidd will participate in off-season wrestling, running and lifting in the summer before leaving for Olivet. Kidd said he has to cut about 15 pounds to make his weight class.
Transier, a four-year letter winner for Bradshaw Mountain golf, will compete at NCAA D-I Seattle University. Her dad, Tom, registered her for a recruiting service called Next College Student Athlete (NCSA). Seattle University followed up soon thereafter, emailing her about its interest, which she reciprocated.
"It just kind of happened really quickly," said Anne, who's played golf since age 3. "They have four seniors that are leaving [the program], so there's five freshmen that are going in this year. There are about three upperclassmen, so I have a good chance of playing my first year. I'm going to work really hard."
Anne has a swing coach in Phoenix named Paul Smith, who's helped her reach this point. Tom and Anne's mom, Juliet, were at the signing. She will play with a partial scholarship at Seattle, where she may study business or marketing. Anne finished second at the AIA D-II girls' state tournament last fall.
Young, a starting swing in basketball and starting third baseman in softball for the Bears, will suit up at Paradise Valley Community College. She signed Nov. 1, and plans to play first base. Her siblings Nathan, Tatum and Timmy, as well as father Tim and mother Carey, were at the signing.
"I'm super excited," Young said. "It's always been a dream of mine, being recruited to the next level."
Follow Doug Cook on Twitter @dougout_dc. Reach him at 928-445-3333 ext. 2039, or via email at dcook@prescottaz.com.