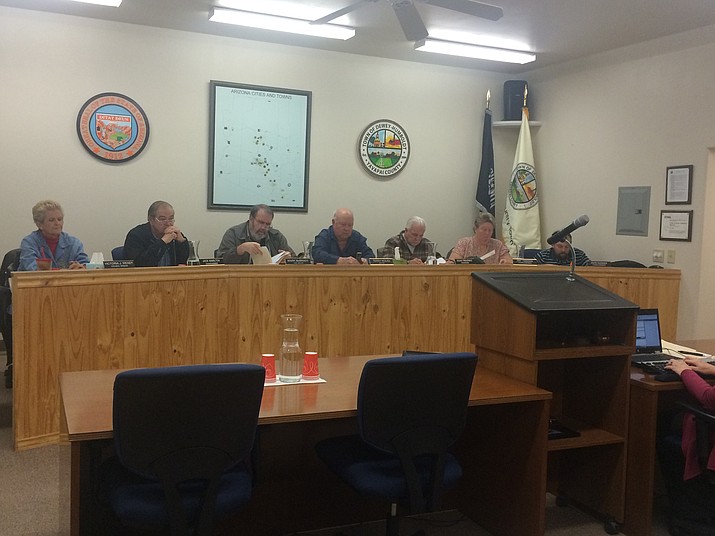 Photo by Jason Wheeler.
Originally Published: April 19, 2017 6 a.m.
When looking at the Dewey-Humboldt Code of Ethics, Councilmember Victoria Wendt said she saw something that was just an accumulation of words with a lot of repetition in the code itself as well as what the state had already said.
"I thought it was way too overdone and again, where it states that the compliance and enforcement was to educate and to discipline, I found that really to my objection," she said, stating another reason was that the public was allowed to file ethics complaints towards councilmembers. "I truly believe, ladies and gentlemen, that we need to keep this in our council. If there is a problem with the public, I think they can certainly have a councilmember bring it forward and if there's an issue, they can do that."
Wendt's comments came during Tuesday, April 11's Dewey-Humboldt Town Council work session, when the council was discussing options for replacing the Code of Ethics, which the council voted to repeal on Tuesday, April 4.
If the citizens have a complaint, they should go to the town before it goes anywhere else, said Councilmember John Hughes.
"If someone has a complaint about me trying to make this a better place, well then I want it to be a legit complaint," he said.
There does need to be something included so a member of the public can come to the council for the council so it can be dealt with in-house before anything else first, but it needs to be unambiguous, said Vice Mayor Doug Treadway.
Looking at the 2011 code, Wendt made the suggestion to make a substitution in the second paragraph under the conduct of public office on page 11. Having public officials follow the Robert's Rules of order to prevent interrupting opposing views during legislative debate as well as them refraining from heckling public officials or constituents in spite of public officials' zeal to represent the views of constituents as something that fits the council, she said. Further, replacing the page 15 filing and procedures section four with section five in the 2011 code would make everything simple and easy to understand as well as have a process, Wendt said.
It's a good idea with the exception of involving staff, said Mayor Nolan, commenting that the council can involve the attorney who can then do so. Treadway said it isn't a bad idea, but would like to see something that includes members of the public who have problems going to members of the council.
"That way, the public is not going to be excluded," he said.
If there is an ethics code, it needs consequences, Hamilton said. If there are no consequences there isn't much point in having it as it's just a feel good document, he said.
Treadway agreed with Hamilton.
"If we aren't going to have something that doesn't have teeth to it, then why have an ethics code?" he said. "I believe there needs to be something that holds us accountable."
Voting is the most important tool the public has, said Councilmember Amy Timmons. They may have to wait four years, but if she's doing that horrible a job, then someone can file a recall against her, she said.
No matter what though, it needs to be simple and easy for everybody to understand, Wendt said.
The council decided to bring the matter back following the upcoming budget meetings.