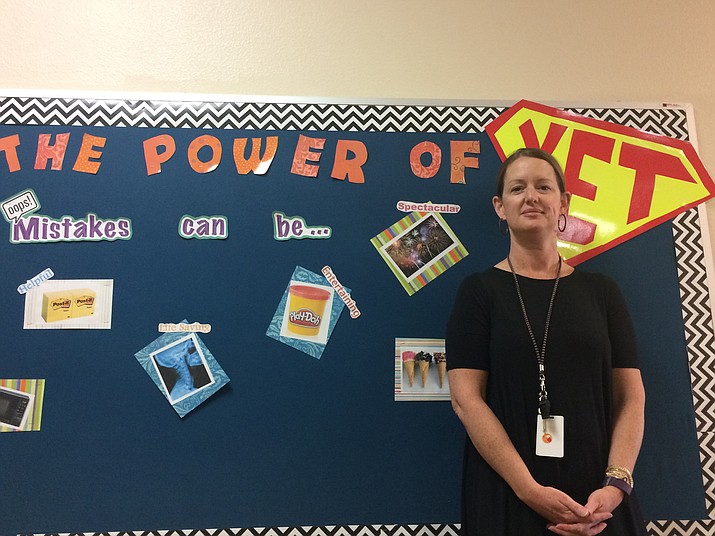 Photo by Jason Wheeler.
Originally Published: April 19, 2017 6 a.m.
Having been a teacher off and on for about 17 years, Granville Elementary School Fifth Grade Math Teacher Jennifer Mraz said she always liked school and was one of those kids who was sad when summer came around.
"I guess I'm like a lifelong student myself," she said. "There's nothing else like it, teaching somebody how to do something."
Mraz was recently chosen as Granville Elementary School's Teacher of the Year and said her favorite part of the job is reaching the kids who have the mindset that they're not good at math because they have been unsuccessful at the subject up until that point. Mraz said she was pretty bad at math herself, having it in her mind that she couldn't do it, commenting she likes to transform the students by using a growth mindset and the "power of yet."
In harnessing that power, Mraz said she tells the students that they're not good at math yet, but they will be.
"Once they hear that and believe in it, it frees them to try new things," she said, noting that making mistakes is OK as it's a new thing for them. "I have a lot of kids that really show a lot of growth. They come to me behind and I'm able to help them get caught up."
Mraz said she tries to bring the real world into the math problems the students do in class. As an example, if the book says 287 divided by 12, she'll make it 287 watermelons and 12 crazy jugglers, she said, stating it's all about making it meaningful and fun. Mraz also tries to make the classroom fun and mentioned that if the kids do all their homework, they can get a 30 second dance party or a minute to mingle.
The reoccurring theme in the teacher of the year essays the kids wrote was that she will always find a way no matter what to rework the problem so the kids can get it, Mraz said.
"I have cabinets and buckets full of stuff. If I can't show them a picture, I'll give them something they can touch or I'll find technology or something. I'll call on the other kids to help them out too," she said. "I don't give up until we get it and I dong' to on until everybody gets it either."
Mraz also gives the students an opportunity to redo tests for full credit so they can learn from their mistakes. Over time, those mistakes become less and less, she said. She made up a concept called "Mraz Minutes" as well that includes 10 review problems a night with the best score of the week on Friday, Mraz said, remarking that students who fail the problems on Monday can learn from it so by Friday, they should be getting it.
If everybody got an A, Mraz said she would go home happy.
Recently, Mraz said she applied for a job in the district as in instructional specialist.
"I didn't get it, but that doesn't mean I'm not going to try again," she said. "I love kids and I'm definitely going to stay doing what I'm doing, but if I had a chance to help teachers reach kids so that I could reach even more kids, then I would jump at that opportunity."