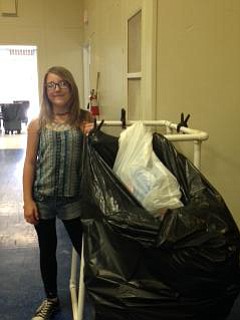 Originally Published: April 19, 2017 6 a.m.
Faith Myers is 10 years old and in the 5th grade at Humboldt Elementary. Faith believes in taking care of our earth. Faith looked at ways that she could support her ideas to help the earth and she came up with a recycle plan. Faith and her grandmother designed and built a recycle bin for the lunchroom at the Humboldt Elementary.
Faith began promoting her plan by challenging our students to recycle plastic bottles and items from their home lunches. Faith cheers the students on each morning promoting our recycle program during our morning announcements. Faith's campaign has been a huge success!! We are filling our recycle bin weekly and Faith's dream of doing her part to preserve our earth is coming true!!
Feel free to collet those plastic bottles and drop them off at Humboldt Elementary School Office and we will take it from here!