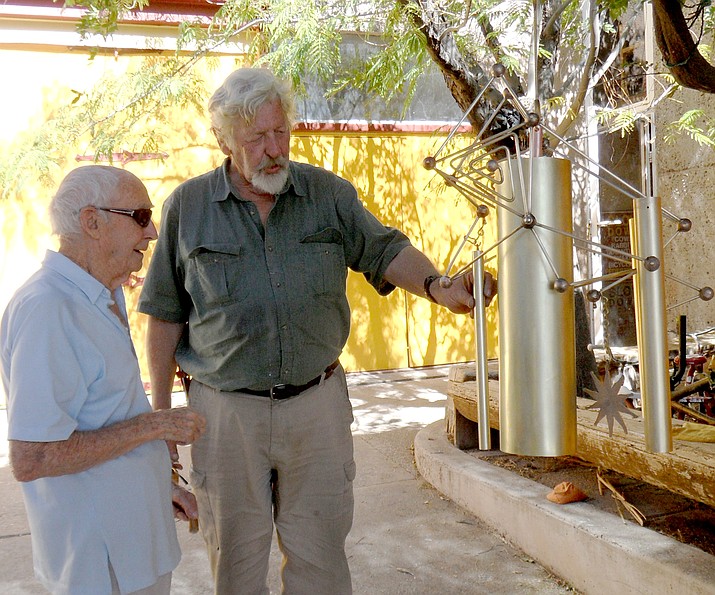 Originally Published: April 19, 2017 6 a.m.
Cliff Hersted — author, artist, researcher, veteran — passed away April 10, 2017, at age 74. Known and respected as an integral member of the Arcosanti community, a Celebration of Life will take place at 1 p.m. Wednesday, April 26, at the Cordes Junction Visitor Center. His ashes will be spread half at the petroglyphs on Arcosanti land and half up on Perry Mesa at a later date.
"We mourn his passing and we celebrate his life full of accomplishments," said Mary Hoadley, friend and Arcosanti public relations.
Hersted came to Arcosanti in 1992 after an adventurous life as an Intelligence Operations Specialist in the U.S. Marine Corps, and 10 years as an Army Reserve Officer. He worked for the IRS and later helped many people at Arcosanti with their taxes.
An avid hiker, he researched, photographed, and logged petroglyphs and native ruins. He produced an informative booklet, "Water Above, Water Below," for the Upper Agua Fria Watershed Partnership of which he was a member.
He helped establish the Cordes Lakes Visitors Center, the High Desert Heritage Museum, and the Friends of Agua Fria association. Hersted managed the Arcosanti Visitors Center for many years, worked in the bronze foundry, and taught workshops.
Yavapai County Supervisor Tom Thurman was a friend of Hersted's. "As an educator, meteorologist and historian, Cliff was exemplary and he was my dear friend. His research ability will be so missed. Have a good hike, my friend," Thurman said. Hersted brought his incredible life experience and skills together with his love for the high desert ecology and archeology to enrich all the projects he participated in, Hoadley said.
Information provided by Arcosanti