Originally Published: April 19, 2017 6:05 a.m.
Photo Gallery
BMHS vs Tempe Boys Tennis 041817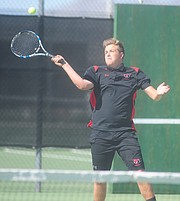 Bradshaw Mountain's boys' tennis team will head to the state playoffs after capping the regular season with a 9-0 shutout of struggling Tempe Tuesday at its campus courts in Prescott Valley.
Finishing the regular campaign at 12-2, Division II No. 9-ranked Bears are guaranteed an at-large berth into the team state tournament, which begins Wednesday, April 26.
This year's tournament field consists of the division's eight region champions and eight at-large squads based on power-point ranking. The AIA will release its final team rankings, along with the tournament bracket, today.
If the Bears (5-2 Section II) earn the ninth seed, they would visit the No. 8 seed in the opening round at 3 p.m. April 26. Section opponent Notre Dame Prep, which was ranked eighth on Tuesday, defeated Bradshaw Mountain, 7-2, March 29 in Scottsdale.
"I'm overly proud of this team," said Bears team No. 1 Dawson Turner, a junior. "We were 5-9 [overall record] my freshman year, 6-9 my sophomore year."
Turner, team No. 2 Luke Poteat, No. 3 Austin Bowman, No. 4 Tyler Calia, No. 5 Ed Ramos and No. 6 Caleb Dimert form the Bears' unit. Poteat will not play in the first round due to a prior academic commitment. But he will return for the second round if Bradshaw Mountain advances.
"We have a really good team this year – we're stacked all the way through," Calia said. "One through six, we have all good players. Any of us could switch any position and do well."
Prior to the team tourney, the Bears will compete in D-II's individual state tournaments. Those singles and doubles tourneys start this Friday and Saturday at Scottsdale Ranch Park and Tennis Center, 10400 E. Via Linda in Scottsdale.
STATE SINGLES
In the first round of state singles, Turner (11-3 record; only losses came to seeded state players) faces Combs' Hayden Woodard at 10:30 a.m. Friday. If Turner wins, he would battle the winner of Cholla Magnet's Angel Diaz-Gila Ridge's Tanner Catanzaro in the second round at 4:30 p.m.
"I'm just trying for the semis," said Turner, who's ranked 19th among juniors in Arizona.
Turner, a defending section player of the year, hasn't faced Woodard. He said he'll enter the match with a "good, winning attitude." In 2016, Turner advanced to the state quarterfinals. He plays year-round, lifting weights and running for cross-training.
"I can't psych myself out before the match," Turner added. "There's 64 players. It's a huge tournament, so I'll give it my all and hope for the best."
The third round (April 22), quarterfinals (April 28), semifinals and finals (April 29) will follow at Paseo Racquet Center in Glendale.
Bradshaw Mountain third-year coach Tim McClintock said Turner can do "just as well [at state] as he did last year" and has a shot at the semifinals.
STATE DOUBLES
In the first round of state doubles, Bradshaw Mountain's pairing of Calia and sophomore Ed Romero will face Higley's Alec Markosian and Zach Farnsworth at 1:30 p.m. Friday at Scottsdale Ranch Park and Tennis Center.
If Calia and Romero win their opener, they would lock horns with second-seeded Section II champion and D-II No. 2-ranked Cactus Shadows' pairing of freshmen Sam Miyata and Colin Mcconnon in the second round at 5:30 p.m.
Calia played team No. 1 doubles with Turner all season, compiling a 12-2 record. With Turner choosing to play singles at state, Romero, one of the Bears' No. 2 doubles players with a strong backhand, earned the spot with Calia.
"I'm not worried [about competing with someone else]," said Romero, who played doubles with Bears No. 2 singles player Luke Poteat this season. "We practice all the time together. We both kind of hit the same."
Calia's a consistent player who volleys the ball well at the net. He and Turner lost in the first round as a state doubles pair two years ago.
"Coach says he has some drills set up for us for doubles," Calia said of preparing for state with Romero. "And we're going to practice hand motions so that we can be moving at the net, and just try to be consistent."
The third round (April 22), quarterfinals (April 28), semifinals and finals (April 29) follow at Paseo Racquet Center.
"They're going to be a solid team down there," McClintock said of the Calia-Romero duo. "I can move three or four guys around in doubles, and the level doesn't come down."
STATE TEAM
As aforementioned, Bradshaw Mountain will likely earn the ninth seed into the D-II state team tournament next week.
If the Bears win their first-round match-up, they would advance to the state quarterfinals at 3 p.m. May 3, at the highest remaining seed. Their opponent would almost certainly be the tournament's No. 1 seed.
The team state semifinals and finals are scheduled for 9 a.m. and 2 p.m. May 5 and 6, respectively, at Paseo Racquet Center in Glendale.
"I was very proud of the boys," McClintock said of the 2017 season. "It was really a privilege to coach this team."
Follow Doug Cook on Twitter @dougout_dc. Reach him at 928-445-3333 ext. 2039, or via email at dcook@prescottaz.com.