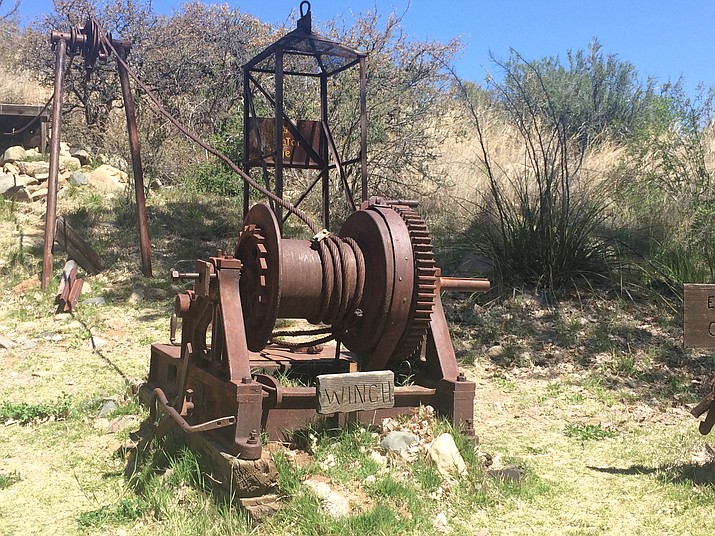 Photo by Jason Wheeler.
Originally Published: April 19, 2017 6:03 a.m.
After eight years of sitting on the Prescott Valley Town Council, Vice Mayor Richard Anderson said that voting to name the Fain Park mining exhibit after Jerry Munderloh is the best thing he's done in that time.
"It truly means more to me than anything else I've done in the eight years I've been here," he said. "It's my pleasure to be part of this."
Anderson's comments came during the Thursday, April 13 Prescott Valley Town Council Meeting during the discussion on naming the Fain Park mining display the Jerry Munderloh Mining Exhibit.
A long-time volunteer for the town and the Prescott Valley Historical Society, Munderloh was largely responsible for reconstructing and refurbishing the mining display as well as adding numerous pieces of equipment as well as starting a lot of the trails in Fain Park and restoring the Barlow-Massicks house on the Fain Ranch, said Deputy Town Manager Ryan Judy.
"At one point, Jerry Munderloh was the only resident of Prescott Valley," Judy said. "Because of all his efforts, we would propose naming the mining display in Fain Park after Jerry Munderloh … Jerry passed away at the end of the year last year and we want to honor him in this way."
Munderloh would have been proud of the consideration, said son John Munderloh, noting that his father was very engaged and proud of the work he did in Fain Park.
Munderloh said his father was a character and proud of different things than other people normally would be.
"He was proud of the fact that he had the only mailbox on the highway in Prescott Valley. That was because he was the only resident," he said. "One time we were taking out the garbage and he was explaining to me how he was proud of the fact that he started the first dump in Prescott Valley as well."
Munderloh also said it was important to acknowledge his father's partner in crime on the mining exhibit, Gene Cross as they worked hand-in-hand to put it together.
Councilmember Lora Lee Nye said she's grateful to have had the privilege to know Munderloh, commenting that she treasures the few conversations they had.
"Your father in his time was probably known as the local character and that was a great accolade for him," she told Munderloh. "It was a long-thought and loving statement."
The council voted unanimously to name the mining exhibit after Munderloh.