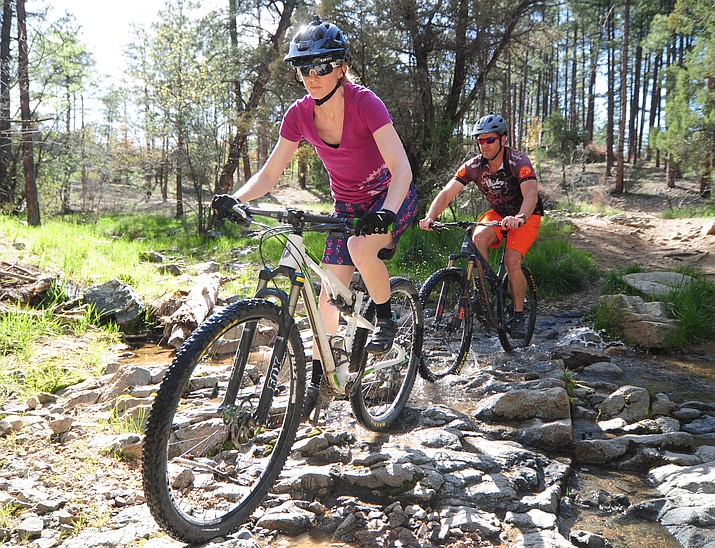 Photo by Les Stukenberg.
Originally Published: April 28, 2017 4:51 p.m.
They may not have flashy bikes, a cushy travel life or all the best gear a major sponsor would provide their professional counterparts at the Whiskey Off-Road this weekend, but Jeremy and Jennifer Kuhn take the amateur race just as serious.
Married in 2001, the Kuhn's began mountain biking together in effort to change their lives, becoming healthier and more fit while enjoying the outdoors.
But as of five years ago, they now race competitively … together.
"It's fun that we enjoy doing this together," Jeremy said with his wife by his side, along with their two children, Matthew, 12, and Leah, 9, behind them playing a video game.
"These races are an opportunity for us to have something to focus on two to three times a year," he added.
Jeremy, 39, aims to finish in the Top 25 to 30 percent of the field in Saturday's Whiskey Off-Road Amateur Backcountry 30-proof race, which likely puts him in the 3-hour, 25-minute finish range.
"I've been doing a training program for the last eight weeks," Jeremy said. "I've had two years where it was a DNF (did not finish) for me … bike problems. This year, everything seems to so far be in line."
Jeremy participated in the 50-proof a year ago, but joked he "didn't want to turn into Skull Valley" this time around.
"It didn't kill me, but at the same time I can scratch that off the bucket list," Jeremy said with a big smile.
The 1996 Prescott High School graduate and current inventory service manager for Prescott Valley's Ace Hardware distribution center said the best way to get the result he wants out of Saturday's event is to not go too fast, too soon.
"The 50 is more of an endurance race. For the 30, the way I'm training, it's more of a sprint, but if I use up my reserves the first 10 miles, I'll be cooking the last 20 or so," Jeremy said. "I need to set that pace, where I know I can run, not sprint through this race."
Jennifer, a current nurse at the Prescott Women's Clinic and former Yavapai College alum, said she's aiming to just complete the race.
"I hurt my knee about six weeks ago, and I didn't even know I was going to be able to race," Jennifer said. "So in the last few weeks, I've been kicking it up again. I want to be able to complete it and have fun."
But that won't stop her competitive juices from flowing, especially once she's side-by-side with fellow mountain bike racers.
"I get competitive a little bit. I try not to, but then you get out there with all of those people and it kicks in," she said.
As for racing against her husband, Jennifer admits he can be a little competitive when it comes to mountain biking.
"He's competitive always. Even when we're not racing, he's competitive. I think any time he's out riding his bike, he thinks he's racing someone," Jennifer said with a big smile while playfully slugging him on the arm. "But, mountain biking has brought us closer, because it's what we do together."
Brian M. Bergner Jr. is associate sports editor and columnist for The Daily Courier. Follow him on Twitter, Instagram, Periscope and SoundCloud at @SportsWriter52, or on Facebook at @SportsAboveTheFold. Reach him at bbergner@prescottaz.com or 928-445-3333, ext. 1106.