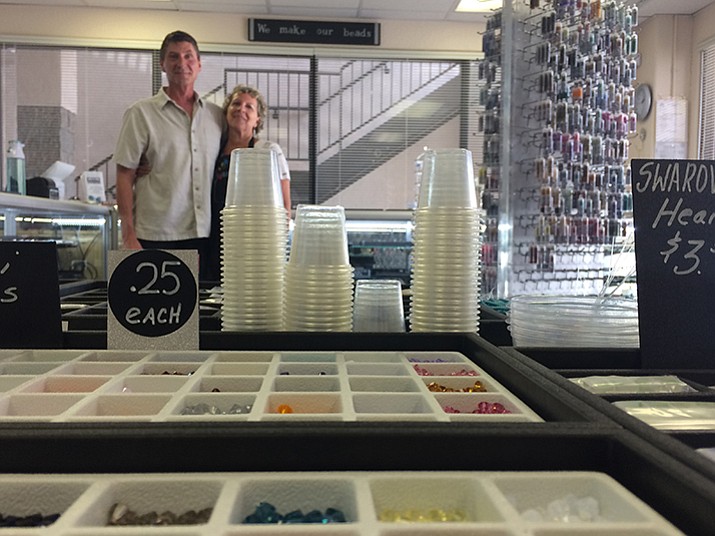 Originally Published: August 2, 2017 5:55 a.m.
Though she's had the store since December 2015, Beads to You co-owner Mary Palais said beads have been her passion for a lot longer.
"I got into it when I was 12," Palais said. "My mom used to buy me antique jewelry and I just started realizing I could take it apart and redesign it. I self-taught myself."
Having furthered her passion for the last 47 years, Palais said she enjoys coming up with everything, noting she likes new creations. Further, her husband, co-owner Sam Palais, keeps her inspired and makes the beads.
Sam makes other jewelry too and started when he was 21 when the two of them first met, Mary said, remarking he took it from her, having made some earrings that ended up being her bestsellers at a craft show.
"It just branches out, one thing leads to another. I got into making jewelry, I was working in a shipyard as a welder and she was making jewelry and doing shows every weekend," he said, stating she sold those earrings came back and said "You need to make some more jewelry. That was the beginning of it and then I got into making the furnace art glass beads because she couldn't find exactly what she wanted from other people. I didn't realize it was going to be a 25-year sojourn, but here we are."
Prior to having the store, Mary said the two of them had been selling online for 23 years. She's always taught classes, too, she said. The classes used to be at community centers, but are now at the store.
There's a store calendar online at www.beadstoyou.com where people can check out when classes are and they can also call and schedule a custom class for any day or time that works for the two of them and whoever wants to take the class, Sam said. Further, the two of them do custom designs, bridal parties, birthday parties, a bead and sip where people can bring wine and do a class and a paint and sip, with someone who comes in and teaches painting, Mary said. They also recently added gemstones and carry a lot of items not normally found in a typical bead store, she said.
Looking to the future, the hope is to open a second store in Prescott and then a third at Lake Tahoe, Mary said.
"I like it there. I used to live there," she said. "I love the summers there. I figure it would give me a reason to go there, to check on the store."
Located at 8516 Highway 69, the store is open from 10 a.m. to 4 p.m. Tuesday-Saturday and the two of them are looking to start opening on Sundays, Mary said. They can be reached at 928-713-5237.