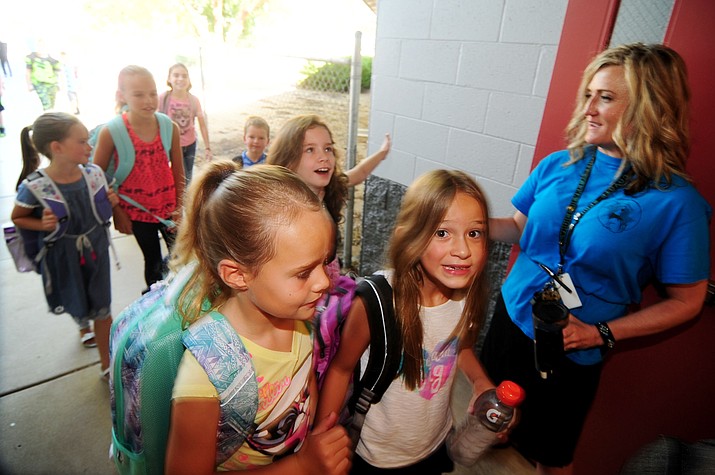 Photo by Les Stukenberg.
Originally Published: August 8, 2017 6:02 a.m.
Photo Gallery
Coyote Springs First Day 080717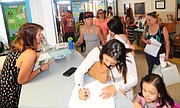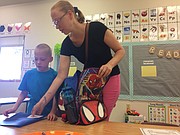 Monday, Aug. 7, marked Alexander Bidderman's first day of kindergarten at Mountain View Elementary school, which Alexander said he was "very excited" for.
Before the bell rang, officially starting the first day, he and mother Kathrin were surveying Rachel Robertson's classroom and making sure everything was ready at his desk before going out on to the playground. Kathrin said she may have been even more nervous than her son, commenting it's the first time Alexander will be away from her for such a long period of time, voicing her hopes that he'll do well in class.
It was the same way for Kaileena Celaya, with mother Alaura noting how her mix of excitement and nervousness for her daughter's first day of school ever.
"I'm nervous to see how she behaves," she said, mentioning that her daughter has special needs. "She's not been around kids her age much."
Though kindergarten is different from preschool, there's always a level of nervousness for parents when it comes to dropping off their children at school for the very first time, said Bright Futures Preschool Coordinator Stephanie Rowe in the Aug. 2 edition of the Prescott Valley Tribune.
It comes from giving them off to someone, in this case the school district, at such a young age, she said, also mentioning the separation and wondering how they're going to do when it comes to all the normal school day activities, such as going to lunch.
Bright Futures Preschool begins its school year next week.
Since it's the first day of school, Robertson said she was going to go over all the rules and procedures, such as teaching them how to sit and act at school.
The first day of school is always exciting, she said, also remarking that even she gets a little bit nervous before the first day.
"I even had the jitters last night, I couldn't sleep very well," Robertson said. "We don't know what to expect, we're all new and we're all getting to know each other."