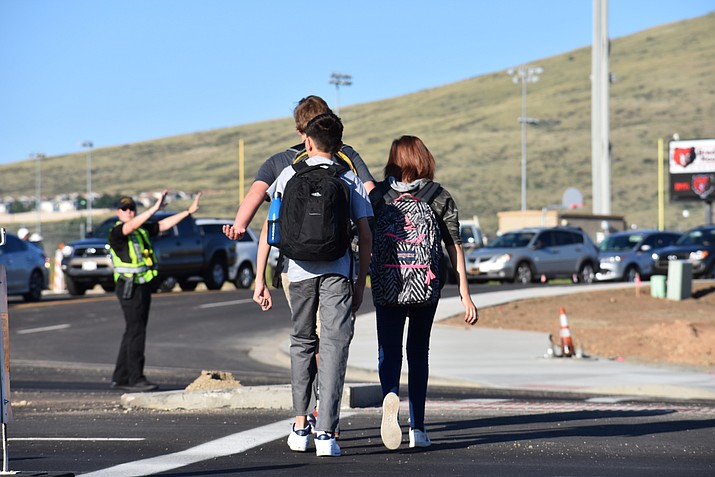 Originally Published: August 8, 2017 6:01 a.m.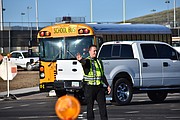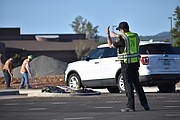 Parents and students, as well as those traveling through Glassford Hill Road, may have noticed the lack of traffic signals at the Glassford Hill Road-Long Look Drive intersection during the drop-off and pick-up times for Bradshaw Mountain High School's first day of school on Monday, Aug. 7.
That was because the new traffic lights, the final part of the intersection project, were delayed, but even though there were only police officers to direct traffic, everything went well, said Prescott Valley Public Works Director Norm Davis on Monday.
"There were no delays at the high school," Davis said, noting everything "went pretty smooth."
Prior to the first day of school, the goal was to make sure there was full access to the high school, whether that was through traffic control by the Prescott Valley Police Department or finding temporary traffic light's in the town's inventory, he said in a Daily Courier article last week.
Monday, Davis said the manufacturer will be able to have the poles in on Thursday, Aug. 10, and since the Town couldn't find any other equipment to use, the decision was to have officer-directed traffic for the rest of the week.
Once the new poles come in, they'll be up as soon as possible, Davis said. Outside of drop-off and pick-up times, there won't be full mobility, said Earth Resources General Manager Wyatt Orr in last week's article. That means outside of those hours, left-hand turns into the school will not be possible, Orr said, also stating the speed limit in the area will remain 25 miles per hour.