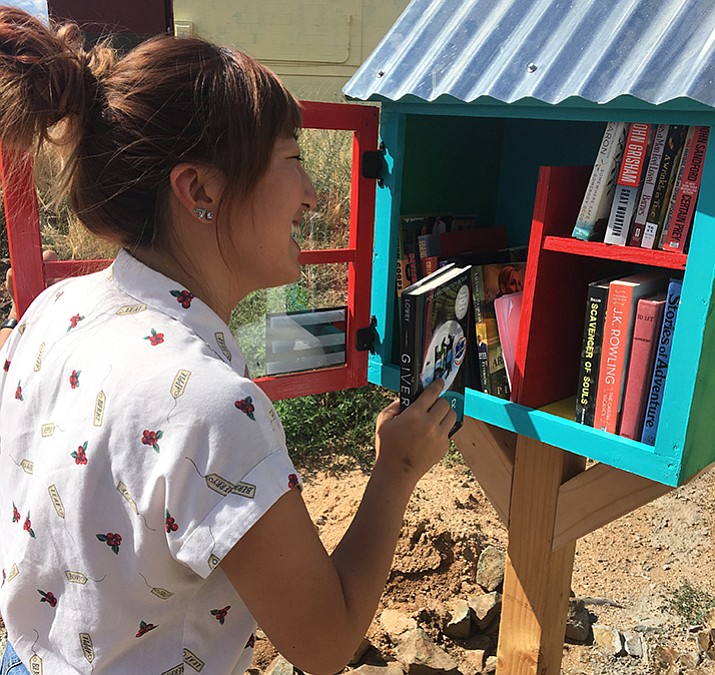 Originally Published: August 9, 2017 6 a.m.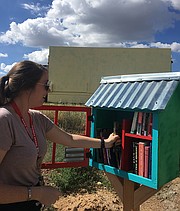 It all started back in April during National Library Month when the library events committee was coming up with ideas to celebrate the love of libraries, said Prescott Valley Public Library Adult Services Librarian Jennifer Kim. Five months later, there's a little free library at Central Arizona Fire & Medical Authority Station 59, Kim said.
"We thought it would be really neat to be able to build a little free library for the community," she said, calling the location perfect as it's in a place where it would benefit the community most. "It's at the fire station, which will keep it safe and the firefighters can keep an eye on it."
A concept that started in 2009 when Todd Bol of Wisconsin built one in the form of a one-room schoolhouse as a tribute to his mother, there are more than 36,000 Little Free Libraries across the country. Anyone can come by, pick up a book, take it home and read it. They are encouraged to return it or add a new book.
Originally, there was talk about putting it in across the street from the library at the community garden, said Teen Librarian Shelbie Marks.
"But that was right across the street," Marks said, mentioning that Library Director Stuart Mattson had the idea of putting it at the fire station. "We thought it would be a neat partnership with the fire department as well and the neighborhood it's in is not that close to the library."
Adult Services Librarian Michele Hjorting said her husband built the Little Free Library and Kim remarked Assistant Director Ted Johnson helped put in the post and support for it. It's been up since Monday, July 24, Kim said.
Library staff will continually update the Little Free Library by putting in fresh donations about once a month, Kim said, commenting that while sometimes, someone can find a really cool book in a Little Free Library, sometimes all that's in there are pamphlets. They don't want that to happen, she said. At the same time, Kim said she hopes to have more than one Little Free Library.
"This is our first trial run," she said. "Shelbie and I are dreaming to have even more that we put out and have teens and children be able to design it."
Station 59 is located at 6401 Viewpoint Drive.