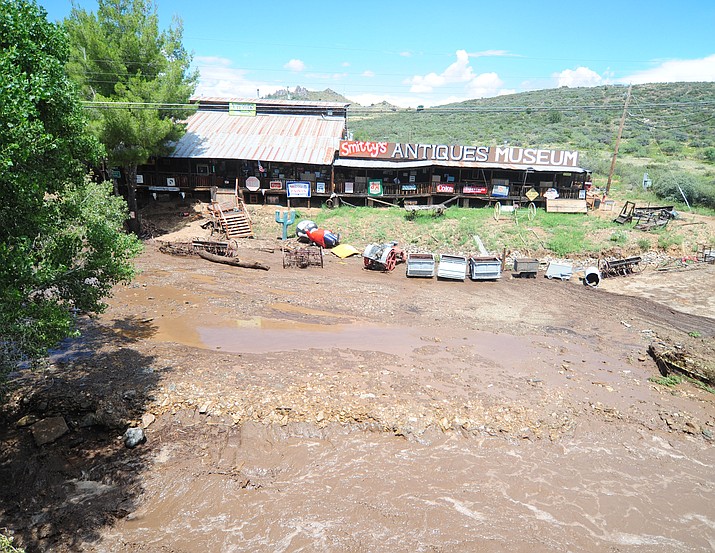 Photo by Les Stukenberg.
Originally Published: August 9, 2017 6 a.m.
More than 30,000 antique items from Smitty's Antique Museum are slated to be auctioned off by EJ's Auction & Consignment starting Saturday, Aug. 12, according to a news release from EJ's Auction & Consignment.
The museum, featured in 2011 on the television show "American Pickers," closed in July after flash flooding problems in its parking lot, a result of the Goodwin Fire. It housed more than 30,000 collectibles, including owner Kenneth Seo's collection of rare phonographs, reel-to-reels, other audio equipment, Native American items, vintage gas pumps, porcelain signs, vintage toys, antique radios, clocks, jukeboxes, antique cash registers, glassware, antique telephones, farm implements, swords, taxidermy and more, the release stated.
The sheer volume of the collection alone makes it an honor to represent Smitty's Antiques Museum, said EJ's owner Erik Hoyer in a follow-up phone call.
"Mr. Seo's private lifelong collection was added into that facility, which is hundreds of items from his own collection," he said, stating the photographs and reel-to-reels "makes it quite unique."
All of the items will go through a process of processing and researching in order to make sure every item is known and identified correctly, Hoyer said. After that, it goes to the photography department where it's photographed and described, and then it's able to be put up online and offered for sale, he said.
EJ's Auction & Consignment conducts three live auctions at its Glendale location, 5880 W. Bell Road, beginning at 10 a.m. every Saturday and the public can bid live, online or via phone. A free public preview begins on Wednesday, Aug. 9, from 9 a.m. to 5 p.m.
The biggest challenge to putting up all the items for sale has been getting all of them packed up and moved out, Hoyer said.
"We estimate 25 to 30 six-foot trucks is what we'll wind up taking out of there and disassembling a lot of that stuff inside the building to pack it up is quite challenging," he said, mentioning it will take eight different sessions and a little more than eight weeks to sell it all. "There's so much of the same like items, we wouldn't want to put them into one auction. It would diminish the value with saturation."
It's hard to put a number onto what all the items will go for, but it's definitely more than six figures, Hoyer said.
Seo, who purchased Smitty's Antiques Museum in 2017, is a lifetime collector of stamps, coins and other items, and became interested in collecting antique photographs, reel-to-reels and audio equipment about 20 years ago, the release stated. He traveled across the world to find a museum site that could house his collection and purchased Smitty's Antiques Museum in February 2017, spending more than $200,000 on renovations and working 16-hour days to prepare for a grand opening. He had big plans for Mayer, including bringing a theme park to the community, Seo said in the release.
"All of the work and my dreams were destroyed in 30 minutes with the first flash flood and then five more after that," he said. "Thank goodness no one was hurt and the collectibles were not affected, but the flooding is a recurring problem for residents, and many of them recently had to evacuate."
Seo was unavailable for comment via a phone call.
For more information, visit www.ejsauction.com or call 623-878-2003.