Originally Published: August 9, 2017 5:59 a.m.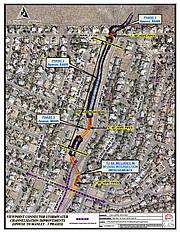 The Town of Prescott Valley is poised to approve the third and final phase of the Viewpoint channelization, discussing the intergovernmental agreement at its Work Study Session on Thursday, Aug. 3.
The agreement is for $800,000 in Yavapai County Flood Control Funds, said Prescott Valley Engineering Division Manager Ron Pine, calling it a testament to the partnership and teamwork that exists between the county and the town.
"Over the last seven years, we've received enough funding to design and construct three phases of Western Boulevard Channel, three phases of Tonopah drainage and two phases of the Viewpoint Channel," Pine said. "That's almost $3.5 million over the last seven years that we've been able to take and bring back to the community for projects to improve the quality of life for our residents."
Last year, town staff started listing more than one project in the agreements in order to have a little bit of flexibility if there was money left over, he said, mentioning that phase two received $500,000 and since it was only going to come in around $300,000 other projects were listed to utilize the leftover money.
Money was utilized for the Prescott Valley Pipeline Multi Use Path, drainage infrastructure, the FEMA remap project and the Sunset Lane project, Pine said. As such, just below this project is the Spouse intersection, an estimated $3.5 million project that's anticipated to start in the fall and it's included in the intergovernmental agreement so if there's any money left over from the channelization phase, it could be applied to that, he said.
These projects are important to the Town of Prescott Valley, said Yavapai County Supervisor Jack Smith.
Smith noted the county is fortunate to have a flood control district that takes all of its projects into consideration and adds extra projects knowing this one will finally come to a close. A few years, ago, the county took some money out of the flood control district and put it towards the general fund, but this year, it increased the levy by about $1 million to facilitate these types of projects, he said.
"When you talk about the monsoons and the amount of water that we've been getting lately in the area, it is extremely critical that we have that infrastructure in place to deter that water away from our roadways, away from our structures and to put it down … wherever it can go away from where folks are living," he said.
Council Member Michael Whiting said he's pleased to see the mitigation that the council is involved with and the progress that's been seen, stating he's sure citizens in the area are as well. The floodplain work is important, Whiting said.
The intergovernmental agreement will go to a vote at the Prescott Valley Town Council meeting on Thursday, Aug. 10.