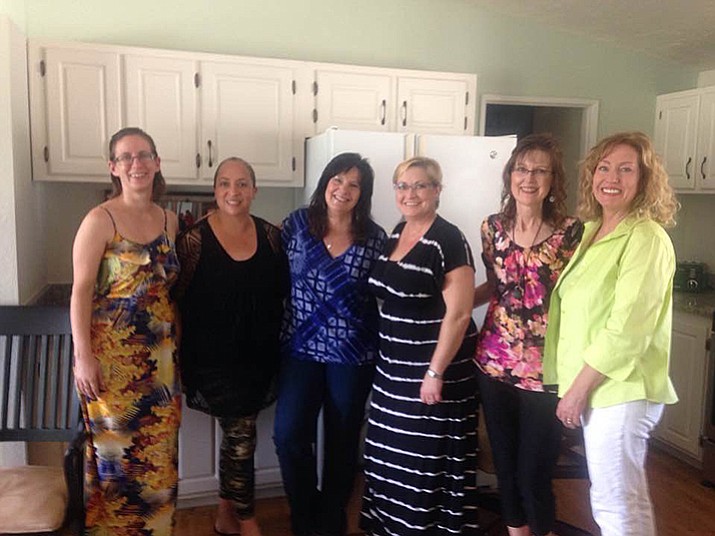 Originally Published: August 16, 2017 5:58 a.m.
As the recipient of this year's Deserving Woman award, Jann Watts said she was shocked and that she felt undeserving of the award.
"I don't feel like I do anything different than any other person would do," Watts said. "I think there's so many people that do so much … for their family and the community. I just don't know if I'm in that class of person, but I sure am grateful to those who think I am."
Watts is the embodiment of what she looks for in a deserving woman, said Jamie Goeringer, owner of SMARTGirls Resale Fashion and the person who started the award last year along with Jen Manda of Cosmopolitan Salon.
Those who receive the award are not known in the community and are silent servants, Goeringer said, noting that Watts likes hanging back, out of the limelight.
Nominated by her employer at Maid to Order, Watts' husband had a heart attack two-and-a-half years ago and lost his job, requiring Watts to work all day as an estimator and clean for Maid to Order at night, Goeringer said. Though her husband was able to find a job, they had two years of medical bills with no insurance and were renting their son's house, but he was moving back and they had to find a place to live.
"They wanted to live in that area on Willow Creek with the trailers, it's that first setup with the modular," Goeringer said, stating there weren't any houses for sale, but they left notes seeing if anybody would be interested in selling and one person did.
"They had to gut it. They had taken it down to the subfloor and has to scrub it down with bleach. They did that and they had nothing to put in it, so they slowly furnished their house, nothing in the back yard."
The house was definitely a fixer-upper, with the people who lived there before them having let it go, Watts said. As such, she and her husband had to do the best they could to get it clean with different family members helping with the cost of replacing the floors while she did all the painting herself, she said.
There was not enough money to do a renovation, Watts added.
That's where Goeringer came in, sending Watts and her husband away to the Marriott in Flagstaff with a basket of snacks for the weekend while they worked on the house. When the couple came back, they did so to a house full of people with the new paver patio still being worked on, she said. There was a new patio table, a brand new grill, a duet chair for the back yard, and a brand-new granite countertop for the kitchen, she said. There was also a wind chime made from the mortar shell of a Black Hawk helicopter, Goeringer said, mentioning that Watts' husband was on a Black Hawk in Vietnam.
"She had no idea we were doing any of this stuff," she said. "We wanted her to know that she's valued and she's important."
Prior to the granite countertop, it was laminate pink and the change makes a huge difference because it is one of the main things anybody sees when they first come in, Watts said.
It was all very exciting and such an honor, she said, remarking that she's also appreciative and humbled because all she knows is the facts of her own life with her and her husband sticking it out to do the best they can.
With her husband's health issues and taking different jobs along with her regular job to make ends meet, Watts said she's just trying to do what she thinks anybody would do. That's taking care of her family, being a good employee, a good neighbor, a good part of the community and trying to do the right thing, she said.
To all other women who may find themselves in the same position, Watts said they should never give up.
"Do your best to do what you can to serve other people," she said. "Just don't give up. Keep trying."