Originally Published: December 6, 2017 6 a.m.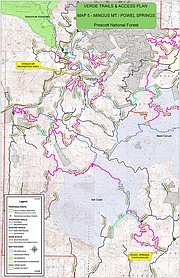 The Verde Ranger District of the Prescott National Forest is seeking comments on the Environmental Assessment for the Verde Trails and Access Plan (VTAP). The project proposes to improve trail opportunities, expand public access, and increase connectivity in the Verde Valley. Comments must be submitted by Dec. 17 in electronic or written form.
The project area spans most of the Verde Ranger District, with individual proposals grouped into one of six areas: West Mingus Avenue, Grief Hill, Black Canyon National Recreation Trail, Mingus/Powell Springs, Copper Canyon/Cedar Bench, and Dugas/Pine Mountain.
The project includes the construction of new trails and dispersed staging areas, and by decommissioning some existing trails and forest system roads.
Plans include the closing of 15 trails totaling 20.43 miles. Several factors, including current trail use, trail sustainability, soils/wildlife concerns, private land access conflicts, public safety and proposed new trails influenced the decision to propose these trails for decommission.
There are no trails proposed for construction inside the Woodchute Wilderness near Mingus Mountain. One propsed trail will provide access to the Woodchute Trail #102 from Potato Patch campground. This trail is not anticipated to significantly increase visitation in the wilderness as where it junctions with the 102 trail is still about 1.5 miles from the wilderness boundary.
The study also looks at sensitive species. Out of 30 Regional Forester Sensitive species on the PNF list, nine species are known to occur within the project area that could be affected by the proposed action. These include the Northern goshawk with two Post-fledging Family Areas (PFA) in the Mingus Mountain area, and eight plants.
Existing bald eagle breeding areas occur along the Verde River on the boundary of the project area and Mingus Mountain area. Closure orders are in place to restrict recreational access to breeding areas annually based on occupancy. No proposed actions are identified within the closure order boundaries.
The full assessment can be read at https://www.fs.usda.gov/project/?project=51507.
Written and electronic formats will be accepted. Only those who submit timely and specific comments during this comment period will be eligible to object. Electronic comments may be submitted as Microsoft Word documents, portable document files (.pdf), or in rich text format (.rtf), text (.txt), or hypertext markup language (.html).
Comments may also be mailed to Todd Willard, Verde Ranger District, 300 E. Highway 260, Camp Verde, Arizona 86322; by fax to (928) 567-1179, or hand-delivered to the above address on weekdays between 8:00 a.m. and 4:30 p.m. Please reference the Verde Trails and Access Plan in the subject line.