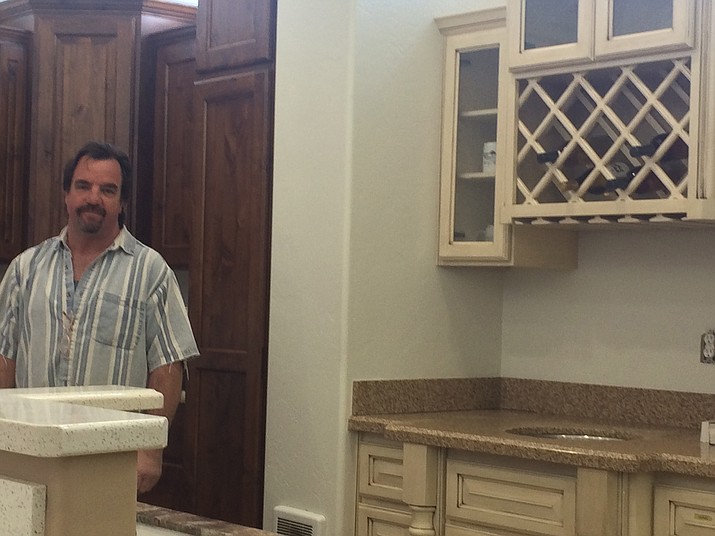 Photo by Jason Wheeler.
Originally Published: February 8, 2017 4:48 a.m.
Bob Myers has spent his entire life working on cabinets and in May of this year, it will be 23 years since he opened Northern Arizona Woodworking with business partner Tom Welle, he said. Myers said he's never really had a job where he didn't get to the top position within a couple years, but where he was at previously had a lot of family.
"I hit the top, so it was time to figure something out," he said, noting that though the company respected the two of them and they respected the company, it was time to do their own thing. "Unfortunately, he did pass a couple years ago … He was certainly a big part of this place. I miss him and I think he'd be proud of us."
Northern Arizona Woodworking, 8875 E. Laredo Drive, is heavily tied to a construction economy with about 90 to 95 percent of the business being new construction, Myers said. However, though there are at least 42 cabinet shops in the Quad-Cities, the company is unique as there's only a few shops in the area that build cabinets from scratch, he said, adding they also sell manufactured cabinets.
In addition, the company does furniture pieces for kitchens, bathrooms and entertainment centers, Myers said, mentioning he's all about the dream kitchen.
"What allows us to do that is we start from scratch in the layout and design. If it's something they've had in the past, we can simulate what they're used to. Basically, give us a blank palette and we'll fill in the kitchen," he said. "With your premade cabinets, there's a lot more limitations. They have cabinets that they build, you simply pick out of the catalog that they give you."
Northern Arizona Woodworking also stocks the building material as well, Myers said. There's also the showroom, which presents clients with what types of wood, finish and countertops are available with all the different types of products that are out there, he said.
The showroom was recently remodeled, Myers said, stating the reason was because people expect to see the quality work the company is cable of.
"It was time," he said. "We didn't have any natural light in there, the products were kind of outdated. So for our customers to see what we're capable of, it was time to show off."
Looking forward to three decades of business in the next seven years, Myers said he's looking to continue what's been done with a little bit more growth and continually working to be as professional as possible.