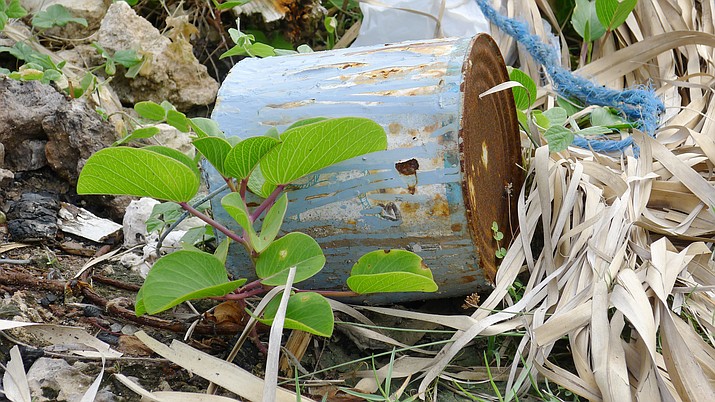 Originally Published: February 15, 2017 4:10 a.m.
We are new to Arizona and took a load of trash to the Prescott Transfer Station. Our load was uncovered and we were informed that since our load of trash was not covered, there would be a $20 fee for this violation. The transfer station waived the fee since we were unaware of this "rule" and brand new to the community. Would you please enlighten us as we want to follow the rules and support our lovely community?
Rod and Lucy, Prescott
First of all, welcome to Prescott. The team at the Prescott Transfer Station are great employees of the city and good stewards at keeping Prescott clean. "Don't Trash Arizona" is a campaign that was implemented to bring awareness to the dangers of material coming off vehicles. Per Arizona law, "A person shall not drive or move a vehicle on a highway unless the vehicle is constructed or loaded in a manner to prevent any of its load from dropping, sifting, leaking or otherwise escaping from the vehicle." (A.R.S. 28-1098.A).
According to the Arizona Department of Public Safety, violators could be charged with a class two misdemeanor and the fines, plus court costs, can range from $460 to well over $1,000, depending on injuries. This law applies even if you are traveling a short distance. The "Don't Trash Arizona" campaign was started in 2004 and the "Cover and Contain" was adopted into City Code in July of 2010. A fee of $20 for uncovered loads into the transfer station went into effect in January of 2013 and has been increased to $25, February 1, 2017.
Recent research conducted by Keep America Beautiful finds that 81 percent of litter is intentional, typically occurring in places where litter has already accumulated. The remaining 19 percent of litter comes from debris blowing out of the backs of pickup trucks or other types of unsecured loads. Whether intentional or accidental, all litter is preventable.
It is important to Keep Arizona Beautiful and to keep Prescott beautiful. There is illegal or wildcat dumping and that is a top problem in rural towns and counties throughout the state and it costs taxpayers more than $3 million every year to clean up litter along Arizona highways. There is an additional cost to the economy when businesses and tourists fail to return to our state because of a poor impression.
You can help reduce the amount of trash on the roads by reporting litter you see tossed from cars. There is a litter hotline and it is open to everyone. If roadway debris poses an immediate threat to safety, call 9-1-1. If you see large accumulations of debris along the freeway that is not in the roadway, contact the Arizona Department of Transportation at 602-712-7355. If you witness someone littering from a vehicle in the state of Arizona, you can report the incident by calling the litter hotline toll free at 1-877-3LITTER (354-8837). Please make sure to answer all the questions, including your name and address, to ensure a follow-up to the incident. Any personal information included in your call will not be shared with the litterer or any other third parties.
The goal of the Keep Arizona Beautiful program is to raise public awareness, change behaviors, and reduce the amount of trash on our highways. We count on you to keep Prescott clean.
Here are some tips of making a visit to the City of Prescott Transfer Station:
Large or heavy items should be firmly secured with solid straps, rope, bungee cords, or netting. Tie large items directly to your vehicle. Small string is not adequate – tie down materials must be able to withstand the wind loads of 70 mph on the freeway. When you are traveling at 60-70 miles per hour, the wind can exert hundreds of pounds of pressure per square foot on your load, pushing it right off your vehicle. Don't use restraints if they are frayed, cut or damaged in any way.
Cover It Up. For loose, lighter items such as tree clippings, a sturdy plastic or canvas tarp or netting can be used to keep items in place. Tie the tarp securely, or it might become road debris as well.
Lighter Goes Lower. Put lighter weight things at the bottom of the load and make sure they are secure. Evenly distribute the load to prevent it from sliding.
Don't Overload. Keep material level with truck bed or trailer unless tied down, netted or tarped. Materials below the truck bed should also be secured if there's any chance of them blowing out or falling from the vehicle.
Double-Check. Double check your load to make sure it is secure at the back and on the sides and top. Remember that loads can move and settle during a journey, allowing restraints to loosen. If possible, recheck restraints shortly after beginning your trip.
Make Sure Your Vehicle is Roadworthy. Ensure both the vehicle and trailer are in good mechanical condition and roadworthy. Make sure your vehicle is rated to tow the load. Drive to the conditions: your load will make your vehicle less maneuverable and it will take longer to stop.
Ask Yourself: Is there any chance of debris falling or blowing out of my vehicle? Would I feel safe if I were driving behind my vehicle? What would happen to my load if I had to brake suddenly or if I hit a bump?
There is a schedule of fees and charges and solid waste division rates on the city website. If you have questions, please feel free to call the Solid Waste Division at 928-777-1116. The City of Prescott Transfer Station is located at 2800 Sundog Ranch Road and the hours of operation are 8:00 am to 4:00 pm Monday-Saturday.
Remember to tune in to YCCA's Hammer Time every Saturday and Sunday morning 7:00 am on KQNA 1130 am/99.9 fm or 95.5 fm or the web kqna.com. Listen to Sandy and Mike talk about the construction industry, meet your local community partners and so much more.
Sandy Griffis is executive director of the Yavapai County Contractors Association. Email your questions to her at ycca@cableone.net or call 928-778-0040.