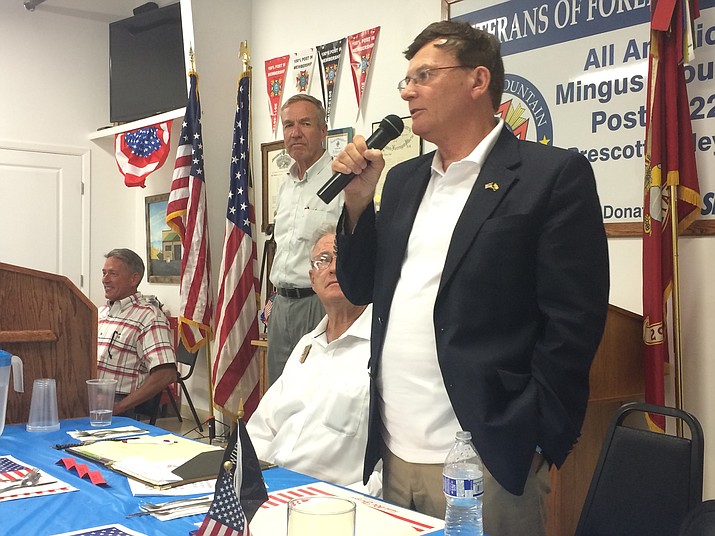 Photo by Jason Wheeler.
Originally Published: February 15, 2017 5:45 a.m.
It was 2003, a time when there were no conservative clubs in Yavapai County when Yavapai County District Two Supervisor and Club President Tom Thurman wondered why there weren't any such clubs in the area. That was when some people came to him with the suggestion to start one, Thurman said. Almost 15 years later and the club has shut down.
"They asked me, being that I was from the area here, I built homes in Prescott Valley for 25-plus years and all over this part of the county, 'would you be interested in starting a club," he said. "It was started in Prescott Country Club when it was called The 19th Hole. We had some great meetings for quite a few years. Now, there's three evening clubs, there's multiple other clubs and it's just thinning out and when it thins out too far … it's tough to get qualified speakers."
The last meeting was supposed to feature Paul Gosar, but it was the third time he had to cancel, Thurman said, noting that while things do come up, cancellations make it tough.
At one point in time, the club drew anywhere from 40 to 80 people and sometimes more than 100, especially if someone controversial came to speak, he said. However, prior to shutting down, the meetings had about 20 or 30 people and if it wasn't a big draw, about 10 or 15, Thurman said.
Thurman said he offered the opportunity of club president to District Five Supervisor Jack Smith, but he declined it because of how busy he already was with his current responsibilities and wanting to be able to raise his children.
"We did our duty," Thurman said, stating it's time to put the club to rest. "That doesn't mean that somebody else can't take it up."
Through the years, the Highway 69 Republicans had some notable speaker, such as former sheriff Joe Arpaio, Doug Ducey and Jan Brewer, Thurman said, calling it a really interesting wild ride.
Thurman said he enjoyed having those big names come and talk because he likes getting the word out about how people think.
"It's tough to get the true word out on how some of these people feel, where they're really coming from," he said, commenting on how he doesn't care for getting secondhand information in the style of the telephone game. "The Highway 69 Republicans was … a meeting to-do. I was happy to see that."