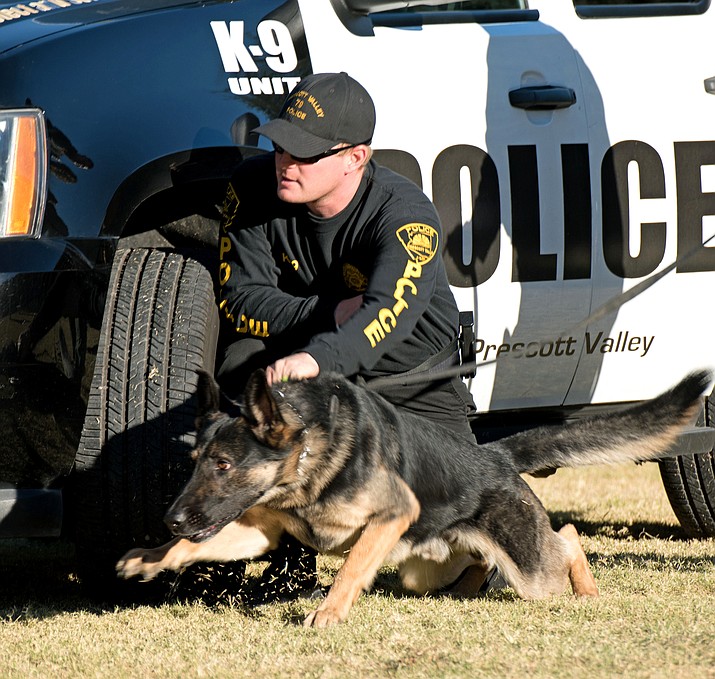 Originally Published: February 15, 2017 4:26 a.m.
Having grown up around animals, with his father training horses and his mother always having dogs, it was during his tenure in the navy when he read an article about service dogs in the military that sparked an interest in working the Prescott Valley Police Department K-9 unit, said officer Matt Williams who was recently partnered with a dog named Turco.
"I get to work with a dog every day," Williams said. "Not very many people get to say that."
Williams said he's been with Turco since the end of September, going through the bonding process from then until Halloween, when the two went to the department of corrections' police service dog academy until the end of the year. They've been on patrol since the middle of January, he said.
While bringing Turco into his home and transitioning was difficult, due to not knowing what his quirks are or what he's like as well as him not knowing what to expect, there weren't any major difficulties that he and his family weren't ready for, Williams said, noting that Turco is comfortable with his home and is good with his wife and children. Before leaving for the academy, the Williams family had taken Turco out as a family to play, he said.
"My son had the end of one of his tug toys and Turco was dragging him along the grass, because he didn't realize just how much stronger Turco was. It was just kind of funny to watch," Williams said. "The more fun he sees, the more relaxed he gets with us."
With what he's dealt with over the last 10 years, it's nice to be able to go to work with a partner in your back seat, Williams said, stating working in a K-9 unit has been more than what he ever expected. Though it's more work than people expect, it's more rewarding because of all the little successes such as Turco picking up something new, he said. On top of it all, it's nice that Turco doesn't talk back when he's frustrated, but can pick him up when he's down, Williams said.
Since Turco goes to work with him every day, the two of them have a different relationship and bond than a person would with a normal dog, Williams said. Further, it's fun to see the other officers excited about having a dog like Turco available as it makes being able to do the job better, he said.
"Without him, there's a lot of thing we would probably miss because his capabilities as a dog are way different than us," he said, bringing up Turco's sense of smell. "For him, to be able to locate things like narcotics, evidence or even suspects, is fun and rewarding and it makes work more enjoyable."