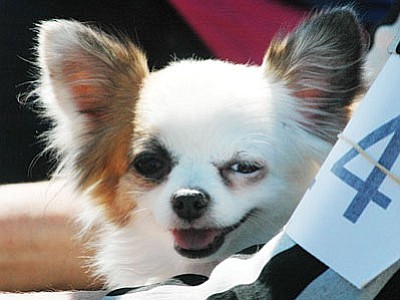 Originally Published: February 15, 2017 5:40 a.m.
Every once in a while, the state of Arizona tweaks its statutes regarding animals, said Prescott Valley Town Attorney Ivan Legler, noting that Paralegal Carol Cornell spent time going through the statutes to make sure the town was in compliance and met with the prosecutor to make sure the code is in line with what is happening in terms of the town's enforcement process.
Legler's comments came during the Prescott Valley Town Council Meeting on Thursday, Feb. 9, when the council discussed amending the "animals" and "offenses" chapters of the Town Code. When he took over as supervisor for animal control, Don Plate said he went through the ordinances and found some issues, such as that the town was giving out permits for kennel and he had never seen a kennel permit in 12 years. Further, there's an ordinance that says it's legal to race dogs within the town and the state recently passed a statute outlawing dog racing, he said.
"These ordinances and amendments that we've come up with is basically to go over some things and change some things. One of the items my officers have been seeing in the parks are people that have been using electronic leashes," Plate said. "These shock collars do work, but they are not 100 percent safe and don't work all the time and as an animal control supervisor, my No. 1 priority is to look out for the safety of our citizens."
Making the electronic leashes illegal was one of the proposed amendments and there are other changes to the ordinances such as those dealing with exotic wildlife, Plate said.
As the Town of Prescott Valley grows, Plate said he feels that there will be more animals in Prescott Valley that would normally be seen in Phoenix, such as boa constrictors and other types of snakes.
"Back in March, we had an emu that was running through town that we had to capture," he said. "I foresee within the next five to 10 years as our population grows within the town here, we are going to see more exotic animals."
Councilmember Mary Mallory said she could verify the snake as there was a lady who came in to the store she works at with a boa constrictor wrapped around her neck. The only person left to check her out was the store director, she said. Other people are trying to use exotic animals as service animals, Plate said, mentioning the time someone walked into Walmart with a potbellied pig.
The amendments were adopted unanimously.