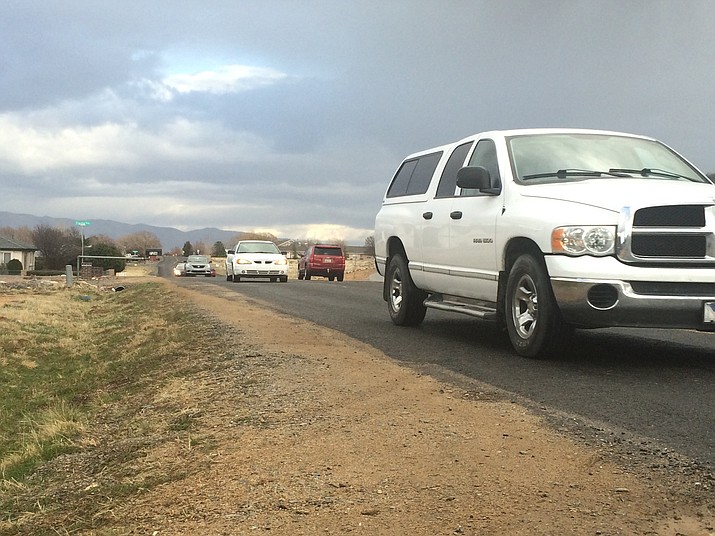 Photo by Jason Wheeler.
Originally Published: February 15, 2017 5:38 a.m.
The Town of Prescott Valley is interested in applying for another community development block grant through the State of Arizona Department of Housing, said Deputy Town Manager Ryan Judy at a public hearing during the Prescott Valley Town Council Meeting on Thursday, Feb. 9.
The proposal is an addition of sidewalk and street improvements on the north side of Long Look Drive between Lone Cactus Drive and Viewpoint Drive, Judy said. The only sidewalk in the area is along Bob Edwards Park on the south side, he said.
"We have a very major project to expand the intersection at Glassford Hill and Long Look," Judy said. "If you choose this project and if we're successful in receiving it, it'll connect those improvements up to the improved sidewalk that's on Viewpoint right now."
To be eligible to receive community development block grant funds, the project has to serve a population that is 51 percent low to moderate income, aid in the elimination of slum or blight or be an urgent health hazard, Judy said, adding eligible categories for fund include public infrastructure, community facilities, housing, public services and economic development.
There have been multiple projects the Town of Prescott Valley has received grant money for, including six different State Special Projects, such as four improvements on Loos Drive, for the Multi Use Path and one for drainage and street improvements on Lake Valley Road that is currently out to bid, he said.
For this project, the town would apply for up to $300,000 and would have to match with funds from the Highway Users Revenue Fund (HURF) which would enhance the application, Judy said.
A sidewalk along that area of road is badly needed, said Mayor Harvey Skoog.
"We got that beautiful park coming up," he said. "A lot of students walking there."
There were no comments from the public during the hearing and the matter will be brought before the council at the work study session on Thursday, Feb. 16 in order to prioritize projects and once more at the Town Council meeting on Thursday, Feb. 23 with formal resolutions.