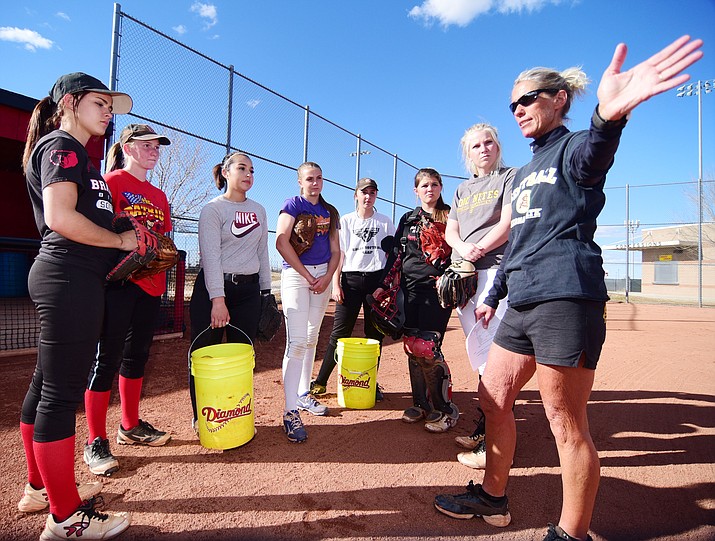 Originally Published: February 24, 2017 6:02 a.m.
Provided Bradshaw Mountain's softball team overcomes its injury problems, the Bears should contend for a 4A Grand Canyon Region title and nab another berth into the state playoffs.
In 2016, Bradshaw ended with a 14-4 overall record and a 9-2 tally in the former Division III, Section IV. At the Arizona Interscholastic Association (AIA) D-III state tournament, the Bears beat Thunderbird, 11-7, in the first round before being edged by Snowflake, 9-8, in the second.
While Bradshaw returns seven girls, each of whom should start, from last spring, three starters will probably miss either half or much of the season in the reconstituted 4A. In addition, five players have graduated.
The Bears open the 2017 season at 4 p.m. Friday, Feb. 24, at Moon Valley.
"We expect to win, but winning isn't anything," fourth-year Bears coach Sharon Haese said from practice Feb. 15. "We don't focus on the winning. We focus on the hard work and the little things out here to prepare ourselves every day to make sure when we have that competition, we're at our best."
Missing from the lineup are starting junior first baseman Courtney Stahley (shoulder surgery), junior centerfielder Jamie Peterson (knee) and starting sophomore second baseman Shelby Dilcher (elbow surgery). Dilcher should return in April and Stahley just prior to that, Haese said.
Stahley was Bradshaw's 3-hole hitter in 2016 who led the division in doubles.
"Courtney's going to get cleared to start doing some throwing," Haese said. "We're going to try to get her bat into the lineup first, because it looks like we'll be able to get her batting sooner than anything else. We've got to have her bat."
Bradshaw is led by senior right-handed ace pitcher McKaylee Dodge, a workhorse who won 21 games last spring. She's setting the table to win at least that many contests in 2017 because she played all last summer and fall for the Verde Valley Heat, a travel team.
"We hope to see it again," Haese said. "We're in a new division, so it's going to be tougher. She'll rise to the challenge and she'll make some adjustments."
Dodge relies on her curve-drop ball, screwball (to force popups) and rise-ball to retire hitters. She has added a change-up.
"I just, like, worked my butt off to get where I am," Dodge said. "I've been working on my rise-ball, and it's come a long way. And my drop-curve is looking really good. Those are my two primary pitches right now."
Added Bradshaw senior catcher Katie Grandy, "I've seen a lot of her pitches getting a lot better, and she's really working on changing some of her pitches to make them more accurate and make them move more."
In the batting lineup, power-hitting junior shortstop Cailee Morgan will lead off, followed by freshman second baseman Madi Duryea in the 2-hole.
The hard-hitting Grandy will bat third and senior third baseman Haley Young slides into the cleanup spot. Young, who suffered a season-ending right knee injury in the 2015-16 basketball season, didn't play softball last year. Haese said she's thrilled to have Young again, who originally played shortstop.
Young said her "knee's good" and that "it's definitely a lot stronger than it was when I first started basketball season [2016-17]."
"Going through basketball season helped gain that confidence back for myself that my knee's OK, that I can cut off of it, that I can run," Young said. "I'm excited to come out and show everyone what I can do."
The second half of the order remains fluid due to the injuries. Senior outfielder Shelbi Audsley, Dodge, first baseman Taidyme Routh, junior OF/C Miranda Sinjain and senior OF Randee Clifford (back from a broken hand suffered late last season), among others, are in the conversation.
"We have a lot of power, all around, defensive and offense," Dodgae said. "A lot of us have been playing since we were 7 or 8 [years old], so we have a lot of experience."
Freshman outfielders Layla Stouder, Kirstin Osteen and Nissa Ramirez are Bradshaw's newcomers, along with junior pitcher Angie Ramirez.
Haese said that in the offseason she planned to have nine starters returning. Now the Bears have everyone at new positions, except Dodge, Grandy and Morgan.
"You have to give kids a chance to see who's going to start rising, and they start separating themselves out here," Haese said. "I've got seven new [players]. They're learning a whole new system under me, which is a lot of responsibility. If you can't do the little things, you don't have the big things at the end of the season."
Follow Doug Cook on Twitter @dougout_dc. Reach him at 928-445-3333 ext. 2039.