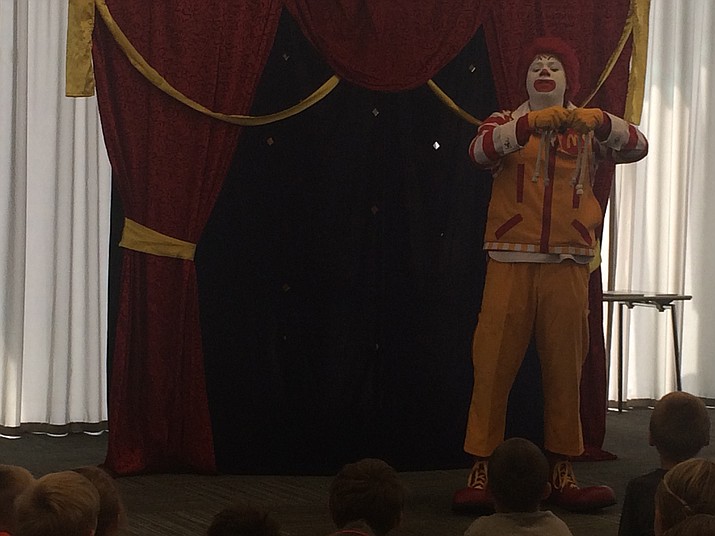 Photo by Jason Wheeler.
Originally Published: July 12, 2017 6:01 a.m.
Watch a puppet show at the library
Birdhouse Puppet Theatre presents "Three Billy Goats Gruff" at 10:30 a.m. on Tuesday, July 18, at the Prescott Valley Public Library.
The show will entice viewers to build a better world with creativity, an interesting twist and a message about nonviolent communication.
Tickets are on a first-come, first-served basis in the Children's Area. For more information, call 928-759-3044.
Marketing made easy at the library
Join the Peak Business Class from 5 to 7 p.m. on Tuesday, July 18, in the Prescott Valley Public Library Crystal Room for Marketing Made Easy.
Kathryn Bazan, business expert from Yavapai Regional Economic Development Center will present the steps of creating a promotional marketing strategy, tapping into local PR outlets and having a presence on the web and on social media.
To register contact, Casey Van Haren at cvanharen@pvaz.net or 928-759-3061. The class is free.
Allen West set for Event Center
Tickets are available for Allen B. West at 6 p.m. on Saturday, Aug. 12, at the Prescott Valley Event Center.
West will speak his mind and share his opinion on problems the United States is facing today and the direction the country should take.
Tickets range from $35 to $65 and are available at www.prescottvalleyeventcenter.com
Learn about emergency and first responder agencies
Emergency and first responder agencies will be at the Second Annual "Villages at Lynx Creek" Emergency/Safety Awareness Outreach from 10 a.m. to 2 p.m. on Saturday, July 15, at the Villages at Lynx Creek, 12200 Highway 69 in Dewey.
The agencies will have information and will be able to answer questions about safety and emergency preparedness. There will be information about volunteer opportunities as well.
Represented agencies include the Prescott Valley Police Department, United States Forest Service, Central Arizona Fire and Medical Authority, Yavapai County Search & Rescue 4x4 group, Yavapai County Sheriff Office Volunteers in Policing, Yavapai County Emergency Management and Yavapai County Community Health Services-Emergency Preparedness.
For more information, contact John DeBartolo at 928-350-8577 or jjdebar@gmail.com
Dewey-Humboldt Town Council decisions
The Dewey-Humboldt Town Council met at a special meeting on Friday, July 7.
The following are decisions from the special meeting: deciding not to sign a retainer letter to retain Interim Public Management, LLC to submit qualified candidates to the Town for consideration of an interim manager; deciding against taking steps to repeal the council-manager form of government and adopt a mayor-council form of government on a temporary basis.
Meetings this week in Dewey-Humboldt
The Dewey-Humboldt Historical Society has its general business meeting from 5:30 to 7:30 p.m. on Wednesday, July 12, at the Agua Fria Christian Church.
A Town Council regular meeting from 6:30 to 9 on Tuesday, July 18, in the Town Hall Council Chambers.
Summer Reading Programs begin
Signups for the Children and Teen Summer Reading Programs continues through July 29.
Register online at www.pvlib.net or in the Children's Department on the second floor.
For assistance with the Teen program, contact Shelbie Marks at 928-759-3042.
Town looking for volunteers
The Town of Prescott Valley is accepting applications from area residents to serve on the Arts and Culture Commission, the Library Board of Trustees and the Personnel Board
This commission serves in an advisory capacity to the Town Council on matters pertaining to the visual and performing arts and culture within Prescott Valley. This is a volunteer position by appointment of the Town Council, requiring some experience and knowledge of the arts and culture. First priority for membership is given to those who live and reside within the Prescott Valley town limits; however, persons residing outside of the town limits who are uniquely qualified for membership may be considered for appointment.
Serving on the Library Board of Trustees is a volunteer position by appointment of the Town Council and requires general knowledge of library operations, policies and procedures.
Serving on the Personnel Board is a volunteer position by appointment of the Town Council and requires experience and knowledge of Personnel Policy and Procedures.
Applications are available at the Town Manager's Office, on the 4th floor of the Civic Center at 7501 E. Civic Circle, Monday through Friday from 8 a.m. and 5 p.m. Applications will be accepted until the position is filled.
Mountain Valley Splash is open
Pool season has begun with Mountain Valley Splash, 8600 E. Nace Lane, continuing to stay open through Monday, July 31.
For more information, call 928-775-3165.
HUSD offers summer food service program
Humboldt Unified School District will open four sites over the summer to offer free breakfast and lunch to children 18 years of age and younger regardless of income. For adults, breakfast is $2 and lunch is $3.
No paperwork or reservations are required.
For more information, call 928-759-5014.