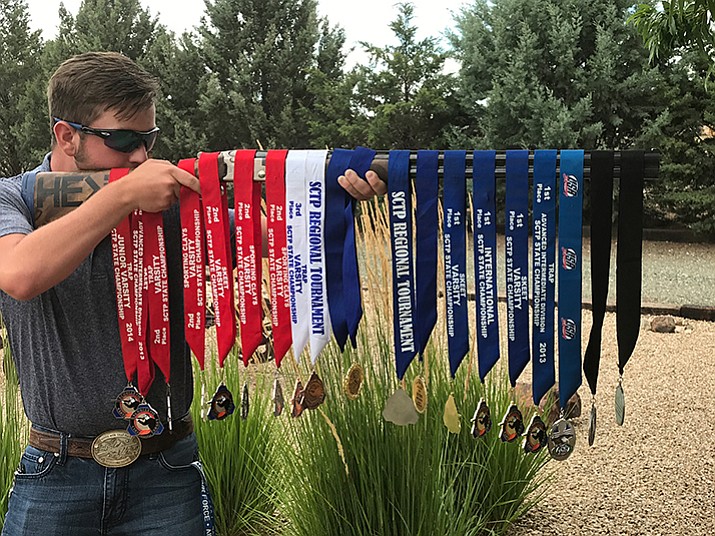 Originally Published: July 26, 2017 6:02 a.m.
In the fall of 2009, Prescott Valley resident Colton Underwood said a family friend in the Pinetop Game and Fish Department brought up the Scholastic Clay Target Program, a program sponsored by the Scholastic Shooting Sports Foundation allowing students to participate in trap, skeet and sporting clay shooting. It was after joining it and shooting for the Pine Top Club, including going to a couple tournaments, that his junior shooting career began, Underwood said.
Prior to moving to the area in 2012, Underwood said he had one last tournament before the move, a sporting clays tournament where the winner received a belt buckle. His grandmother passed away on the day of the tournament, he said.
"That last tournament, I shot it for her and I ended up winning that buckle," Underwood said. "Every day, I wear it to remember her by."
After moving, Underwood said he joined the Prescott Gun Club and its Scholastic Clay Target Program and the squad ended up winning the state championship for trap shooting during the first tournament he was involved in with them. Since then, there have been more tournaments, such as a national championship in Illinois and the state skeet championship in 2015 where the squad got first place and was his first individual first place, Underwood said, also mentioning he was selected to attend a Junior Olympic training camp in Colorado after an essay he wrote was selected. He met a lot of friends there that he's still friends with now, some of which are his best friends, he said.
There were some bumps in the road when 2016 came around though, with Underwood remarking that last year, his squad got first place for skeet again and he got sixth place in the state for handicap trap and in the latter half of the year, he enlisted in the United States Air Force. However, 2016 was also the year of his hand injury in October that put him out of action for five months and threatened his upcoming career, he said. Yet, even though his hand was in a sling, that didn't stop him from supporting his team, Underwood said.
"I went to all my team practices and tournaments to help support my teammates," he said, adding that after getting the go-ahead to shoot again, he went to the state championship where his squad got second place and he got first place as individual. He also "traveled to Colorado for the junior Olympic National Championships for Olympic Skeet and got 17th in the country."
Further, Underwood said he got his injuries cleared by the doctors at the Military Entrance Processing Station in Phoenix a little more than two weeks ago and is all set for the Air Force.
Underwood showed an interest in guns from a young age, from looking for sticks shaped like guns when he was little to Nerf guns, said mother Kristen Underwood, also noting her father was a firearms instructor. Colton's father, Jake, grew up with it too, she said.
"We've all grown up with it, he's always had family support for his shooting, especially since we've moved here," Kristen said. "My dad, his grandfather, started taking him out once a week to the shooting range … it almost became like a part of school. Homeschooling brought him closer to my dad. It's a blessing to have my dad being so supportive and taking him shooting every week."
When preparing for special tournaments, that turned into twice a week, she said.
One of the things that Colton liked and kept him being involved in shooting is what kid doesn't like guns, said Jake. Another is the quality of kids involved, he said, calling to attention that everyone's trying to help each other get better even though their competing against each other. It's a neat environment where kids are working to help their opponents do the best they can even though that may mean losing to them, Jake said.
Colton has just become really involved with the club itself and does a lot of volunteering work with them, Kristen said, with Jake stating he's gained a lot of respect from the older gentlemen. The two of them are very proud of Colton, he said.
Colton said he's just having fun, commenting how serious he used to be, getting upset every time he missed a target. However, at some point, he just figured out he shoots best when he's having fun with his friends or grandfather, he said. He figured it was better to not take everything so seriously and enjoy the ride, Colton said.
Colton shoots best when he's relaxed, Jake said. Before learning to just let everything go and have fun with it, he'd get too tense and analytical, he said.
"With any sports, you're too much in your head. Some of our coaches say shotgun shooting, shotguns ports is a six inch game. It's six inches in between your ears," Jake said. "The game is right here, so you just need to relax and drain everything. Stop thinking and just react. That's what we've learned to do is turn off the outside world, play a favorite song in your mind, hum along to it, feel the rhythm and just go. Just react."
These days, Colton's junior shooting career is officially over, Jake said. But Colton said he has the goal of getting on the Air Force Shooting Team as well as making it in the Olympics. Once he gets stationed somewhere, he can apply for the shooting team and go on to the Spring and Fall Olympics selection matches where he can qualify for the next Olympics, Colton said. Once he gets all that squared away, he'll come back and focus on his shooting career again, he said.
For new shooters, Colton said he'd tell them to not give up no matter what because when first beginning, they're going to miss a lot of the targets. Yet, they should learn how they missed that target so they can fix it, he said.
"Nobody ever learned anything from always hitting a target," he said. "Never give up, always try to get everything out of the negatives. Try to learn everything from the negatives that happen to help fix the positives in everything."