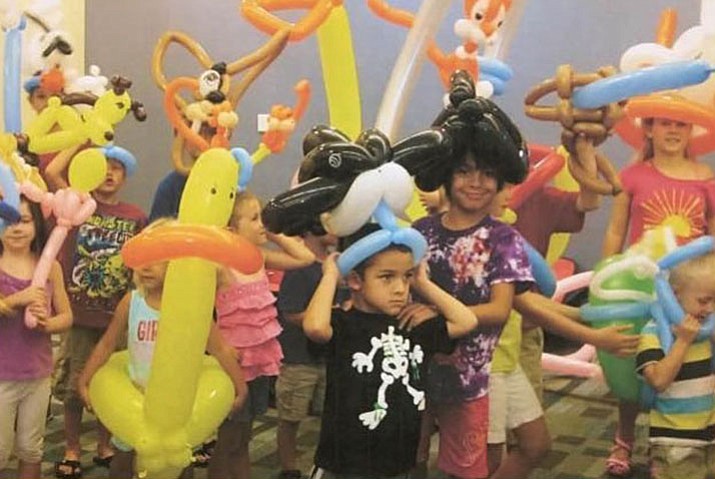 Originally Published: June 14, 2017 5:50 a.m.
After working with balloons for the last two decades, Ric Fout said he's really become Arizona Rick the Balloon Cowboy and has been putting on a balloon show for about nine to 10 years.
"I've been having a great time doing it for so long," he said.
That balloon show will be at the Prescott Valley Public Library on Tuesday, June 20, as part of the library's summer reading program, where Fout will show off his balloon art and tell stories with those balloons from 11 a.m. to noon.
When it comes to balloons and entertaining with them, sometimes it's not even in how those balloons are molded, but what's done with them, Fout said, mentioning that a good friend of his makes balloon ball gowns. Others wear balloon costumes and one even makes tiny, intricate things with them, he said.
"What I do is more of a clown skit type thing," he said, noting that his balloons aren't simple but also aren't overcomplicated. "What I like to do is have a lot of fun with the kids."
Some of the things he makes are six-foot sculptures that are just plain fun, but are also crazy hats for the kids, Fout said. What he does most though, is put those balloons together to tell a story, he said. One story he does is a rendition of Old MacDonald, but with different characters such as an octopus, a unicorn and a shark, Fout said, explaining how telling stories with balloons can be like telling a story via cartoons with overemphasis or diminishment of various features.
The story Fout said he's telling at the Prescott Valley Public Library will be one of a princess in distress where the hero has to get past bad guys. It's a simple story that everyone can relate to, he said, also remarking that the overwhelming majority of people love balloons no matter their age.
While some balloon artists look at their shoes and don't interact with the people they're making the balloons for, Fout said he doesn't do that. In fact, he'll go so far as to make teenagers interact, including do crazy dances, for the balloons, he said. Still though, the focus isn't on him, Fout said.
"Every place is a stage, but you're making the kids the stars of the show," he said.
For more information about Arizona Rick the Balloon Cowboy and his appearance at the library, call 928-759-3044. Tickets are free and handed out on a first-come, first-served basis in the Children's Area.