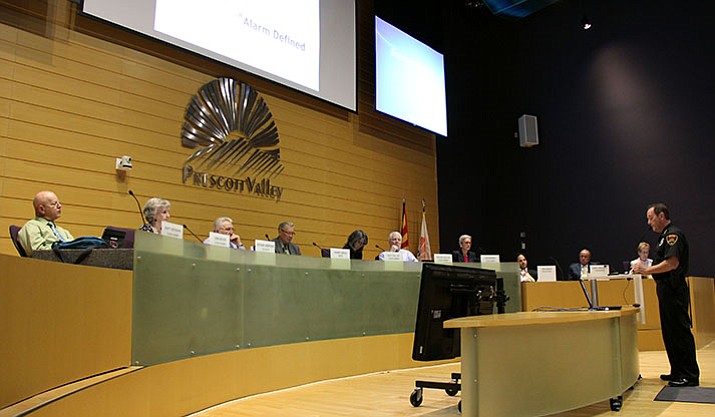 Originally Published: June 21, 2017 6:01 a.m.
Of the 772 burglar alarms Prescott Valley Police Department responded to in 2016, only 6 were classified as criminal offenses, according to a study conducted by the department.
"Four were burglaries, when the alarm worked properly, but the perpetrators were gone before we got there," said PVPD Chief Bryan Jarrell. "Then two were rocks that were thrown through windows that triggered an alarm."
The remaining 766, or 99.2 percent of them, were considered false alarms.
A false alarm can be caused by human error, equipment malfunction or even the elements, such as wind or lighting, Jerrell said.
Each time PVPD responds to an alarm, it costs the town $58.12. That means the total cost of response to false alarms in 2016 was $44,519.92, which is about the cost of one officer's salary, Jarrell said. That money comes out of all taxpayers' wallets, not just the alarm owners'.
In an effort to reduce false alarms, PVPD contracted with a company called Public Safety Corporation and their subsidiary, CryWolf, in 2013. This system requires owners of alarms to register them with the town for $15. Alarm data is then tracked, processed and streamlined with software provided by CryWolf.
Though the department did see a reduction in the overall number of alarms since the program was started, the 50 percent reduction they had hoped for in the first two years was not realized. Additionally, neither the percentage of false alarms nor the ratio of actual break-ins changed since the program was implemented, Jarrell said.
Therefore, PVPD is asking the Town Council to institute a verified response protocol, which Jerrell presented to the council during its weekly work study session on Thursday, June 15. The town would have to change a town ordinance and sever its contract with CryWolf to accommodate this request.
A verified response protocol requires independent verification of burglar alarms prior to police response. Meaning, police departments following this protocol only respond to alarms they know were triggered due to criminal activity or an emergency taking place. Verification can be through eyewitness accounts or monitoring technology provided by alarm companies, such as sound or video recordings. The department would also respond to panic, robbery or medical assistance alerts, all of which require a person physically pushing an alarm button.
"Just based on commercials I've seen on TV and just knowing a little bit about the alarm system business, I know more and more people are going to video with audio alarms where they can get it on their smartphones," said councilmember Marty Grossman.
Current alarm industry standards direct an alarm monitoring company to make at least two calls to the owner of an alarm system when the alarm is triggered. If the owner does not answer the calls, is unable to respond to the alarm him or herself, or wishes for the police to respond, then the alarm company calls police dispatch and requests it be checked out. However, there is no law mandating police to respond to alarms unless there is verifiable evidence clearly indicating that a crime is occurring, Jarrell said.
In Prescott Valley, if an alarm is found to be false, that is recorded. For every subsequent false alarm responded to at that location in a given year, the property owner is cited a $55 fine. One of these fines can be avoided annually by taking an online course similar to driver's education.
Given the overwhelming number of false alarms still being responded to, Jerrell believes it's obvious this system is not working well.
"It's just not effective," Jerrell said.
While some Town Council members seemed to buy into Jerrell's argument, others remained skeptical, questioning whether a verified response protocol is enough to ensure the safety of those citizens seeking an additional level of security through an alarm system.
"I appreciate the information," council member Jodi Rooney said. "I also know that homeowners and business owners have paid for a service for peace of mind, and knowing that our police officers do respond provides that peace of mind."
James Edelstein, PVPD's Deputy Chief, agrees there is a psychological conundrum here, but does not believe reducing the response to alarms will have an adverse effect on crime rates in the area.
"Yes, there is going to be a feeling that [alarm owners] are less safe; but in reality, 99.2 percent of the time that we do come to their house or business, nothing is going on," Edelstein said.
Additionally, Edelstein doesn't believe it's fair that only a small portion of PV's population uses alarm systems while everyone's tax dollars are paying the police force to respond to what are almost always false alarms.
"We could be using our resources more efficiently," he said.
As it stands, the Town Council has requested that PVPD bring additional information about the changes they are proposing to a later study session for further consideration.
In other Town Council news:
Technology fee for development
The Town of Prescott Valley presented to the Town Council its consideration of charging a technology fee as part of all development related transactions with the Town. This fee is proposed to cover the costs of software subscriptions, software implementation and data conversion for an updated version of the town's current permitting software called Accela Automation.
"The worst case scenario is the conversion costs of that data would be somewhere in the neighborhood of $800,000," said Richard Parker, PV's community development director.
The council expressed support for the fee across the board.
"This is just being sensible, logical and doing good planning," said council member Lora Lee Nye.
In the event that a fee between 5 and 7 percent were assessed in Prescott Valley, reoccurring revenues for permitting system software would range between $100,000 and $140,000 annually.
Yavapai County is pursuing a similar course of action and PV town staff may recommend that the town join with the county in their effort depending on costs and implementation scheduling.
Outdoor lighting amendment
With the approval of Prescott Valley's Town Council, the Town of Prescott Valley is hoping to amend a town code to reflect current technology and trends in lighting. Eventually, the town intends to convert all of its outdoor lighting fixtures to LED (light-emitting diode), which is known to be a much more efficient means of lighting than what the town is currently using. Additionally, town staff proposes updating language to regulate the color correlated temperature (CCT) of LED lighting in order to prevent disability glare for drivers, and protect the dark skies currently enjoyed by the Town's residents and wildlife.
Though the Town may be required to purchase LEDs at a higher price than its current lighting fixtures, it expects to benefit in the long run from reduced maintenance and replacement costs.
A recommendation from the town's Planning Commission will be brought to the Town Council for a vote in September.

New Vice Mayor
After some deliberation and a subsequent ballot vote by councilmembers, it was determined that council member Lora Lee Nye will serve as Vice Mayor for the next two years. She takes the place of Richard Anderson, who will now serve as a regular councilmember. This is Nye's second time serving as Vice Mayor.