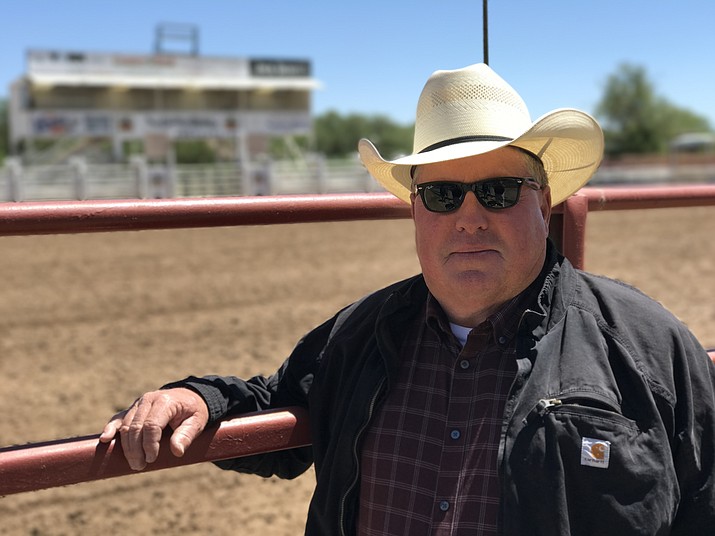 Originally Published: June 29, 2017 11:45 p.m.
Photo Gallery
Prescott Frontier Days Rodeo 062917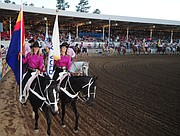 EDITOR'S NOTE: This article is part two of a three-part series featuring members of the "Legends Live Among Us" honored by the 130th annual World's Oldest Rodeo.
When 59-year-old George Richards received word he was going to be included in this summer's World's Oldest Rodeo festivities as a "Legends Live Among Us" honoree, words couldn't describe his emotions.
Overcome with gratitude, a sense of mutual respect and an overwhelming feeling that the good old days had returned, Richards simply muttered, "It's great to be here" and he was "honored."
Originally from Humboldt, Richards graduated from Prescott High School in 1976, and two years later, won a header team-roping world championship in 1978 alongside Prescott native Brad Smith.
For a man that qualified for the National Finals Rodeo in Las Vegas seven times, Richards fondly remembers growing up around Prescott Frontier Days, and finally getting his card to compete.
"You had to fill your permit before you could get your pro card. I was excited to get that card so I could do rodeo," Richards said, adding he liked baseball as a teenager, but rodeo was his favorite.
"It was the competition, the comradery, the friends you meet," Richards said.
For over a decade he competed in rodeos all over the country, but by 1982, Richards accomplished what he set out to do all along: Win the team roping competition at the World's Oldest Rodeo in Prescott.
"You always want to win your hometown rodeo. That's a big deal," Richards said. "Over the 4th, you go to as many as 10, 15 rodeos over the 4th of July. So it was always good to get back here, home."
Richards was no stranger to the life of a cowboy competing in rodeos not only across the country, but locally, as his father won the World's Oldest Rodeo in the 1960s.
"We weren't pressured to do it. It was something we wanted to do. He did it," Richards said about breaking into rodeo as a child.
And now watching his two sons, Tom and Ryan, compete in headers and heelers team roping, he couldn't be prouder.
"It's great. I'll be here rooting them on," Richards said.
Brian M. Bergner Jr. is associate sports editor and columnist for The Daily Courier. Follow him on Twitter, Instagram, Periscope and SoundCloud at @SportsWriter52, or on Facebook at @SportsAboveTheFold. Reach him at bbergner@prescottaz.com or 928-445-3333, ext. 1106.