Originally Published: June 29, 2017 11:30 p.m.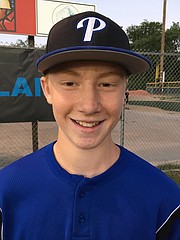 Scooter Schwartz had three hits, but his grand slam in the top of the fifth inning to break a 1-1 tie was the biggest of them all for the Prescott All-Stars in a 10-2 rout over Prescott Valley on Thursday night.
It is the second straight win for Prescott (2-0), which advances to the Little League District 10 Majors All-Stars Tournament semifinals.
After the game, Schwartz admitted he didn't think the ball was going to leave the yard on his go-ahead grand slam.
"I popped it up, and it barely went over," Schwartz said. "It was a fastball outside."
Prescott skipper Dan Streeter said up until that point, it was a struggle offensively for his club.
"We had base runners early and we couldn't get that big hit, but we finally broke through late in the game with Scooter coming through with the bases loaded," Streeter said, adding that it was a well-pitched game on both sides.
"Wes (Collier) pitched an outstanding game, challenged us low in the zone, didn't allow any free passes early in the game," Streeter said.
Collier went five innings, allowing five runs on seven hits while striking out seven for the Prescott Valley All-Stars (1-1).
For Schwartz, the 6-foot tall right hander allowed two runs on four hits while striking out 10 and walking a pair to earn the win.
"That was vintage Scooter, that's what he's done for us all year. We know he's going to throw strikes and give us a chance to win, and that's what he did," Streeter said.
Schwartz said he was able to "throw strikes" and get ahead in the count, keeping Prescott Valley off balance most of the game.
"Some of the batters swung at pitches they shouldn't have, and it worked to my advantage," Schwartz said.
In the top of the sixth inning, Prescott put the game away after Thomas Fabian picked out a fastball for a three-run home run.
"I kind of popped it up and thought I was out, but it turned out to go over the fence," Fabian said.
Standouts for Prescott Valley included Grady Rose, who was 2 for 2 with two runs scored, while Junior Sartor and Collier each had a base hit.
UP NEXT
Prescott will face the Williams All-Stars (1-0) in the tournament semifinals Saturday night at Bill Vallely Field. Williams defeated the Wickenburg All-Stars (1-1) 7-4 on Thursday night, just 24 hours after defeating the Camp Verde All-Stars (0-1) in an 8-7 thriller.
First pitch is set for 6 p.m.
For Prescott Valley, they'll face Camp Verde tonight in the loser's bracket at 6 p.m.
Brian M. Bergner Jr. is associate sports editor and a columnist for The Daily Courier. Follow him on Twitter, Instagram, Periscope and SoundCloud at @SportsWriter52, or on Facebook at @SportsAboveTheFold. Reach him at bbergner@prescottaz.com or 928-445-3333, ext. 1106.