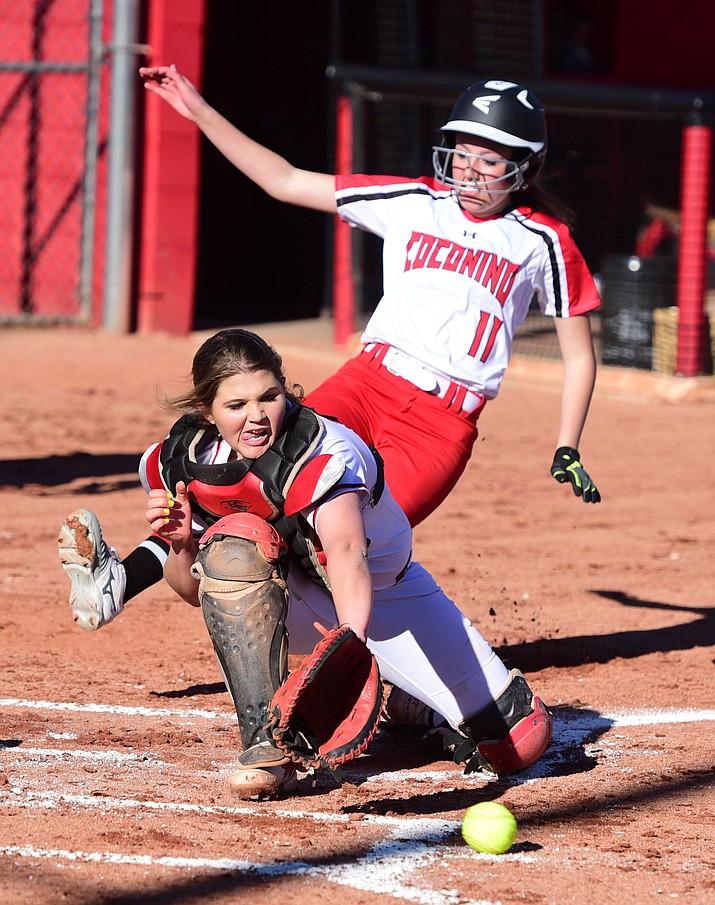 Photo by Les Stukenberg.

Originally Published: March 8, 2017 6:02 a.m.
Fielding a fairly green group in 2017, Bradshaw Mountain's softball team will suffer through growing pains this season.
And yet despite a 4A Grand Canyon Region-opening 8-4 loss to Coconino on a bright and chilly Thursday afternoon, March 2, in Prescott Valley, the talented Bears showed promise.
"We have two freshman middle infielders which, they did a great job," Bradshaw coach Sharon Haese said. "We had only three starters in their [normal] positions.
"The rest are brand new. It's just a matter of we've got to get these kids to mesh together and trust each other, and get to know each other out on the field a little bit.
"This team has the potential to do some really great things."
Bradshaw and Coco were initially supposed to meet in Flagstaff on Tuesday, too, but wet winter weather forced that contest's postponement to April 24, the final day of the regular season.
On Thursday, Panthers sophomore starting pitcher Kaitlyn Snopek benefitted from a 6-0 lead through two innings en route to a complete-game victory. She allowed four runs (three earned) on five hits with four strikeouts and five walks in seven innings.
"When we have that cushion, I feel like my team plays a lot better, and we just have the confidence," Snopek said.
Bradshaw senior ace pitcher McKaylee Dodge took the loss. She surrendered eight runs, only four of which were earned, on seven hits in seven frames. Dodge registered four strikeouts and walked two.
A couple of fielding errors in the first two innings resulted in three of Coco's six runs scoring. A two-run single from Mary Tosi and an RBI single from Snopek boosted the visitors.
"Everyone, I feel like they were nervous and no one was really communicating," Dodge said of her team's early struggles versus Coco. "But after that [second] inning, we opened our eyes and realized that we do not need to throw the ball around and not be nervous."
Bradshaw responded with two runs in the third with two outs. After Snopek issued consecutive walks to Courtney Stahley and Haley Young, Shelbi Audsley's infield single loaded the bases.
Dodge's two run single to center provided a spark and ended Coco's shutout bid. But with runners on second and third after a passed ball, Snopek tallied a strikeout looking with freshman Kirsten Schmidt at the dish. Dodge hurled four straight scoreless innings, from the third through the sixth., allowing two hits in the span.
She retired the side in the third and fourth frames and capitalized on an inning-ending double play in the fifth. Dodge faced four batters in the sixth, forcing two pop-outs and a fielder's choice groundout to second base.
"She did a fantastic job," Haese said. "She could've lost her poise out here, but she really kept herself together. That was really important."
Still behind 6-2 in the sixth, Bradshaw leadoff hitter Madison Duryea ripped a two-run double to center, trimming it to 6-4. But Snopek retired the next two batters, Katie Grandy and Stahley, to end the threat. The Bears stranded nine baserunners on the afternoon.
"Kaitlyn struggled for a couple innings and then she pushed through and finished the game strong for us," Coconino coach Kimberly Dennis said. "But those first two innings, getting those six runs were big in this game."
The Panthers quashed Bradshaw's comeback bid in the seventh. With two outs, Coco scored an insurance run on a fielding error. Then, Ashlyn Hernandez put it away with an RBI double to deep right-center field.
Down 8-4 in the seventh, Young led off with a single. But Snopek recorded two groundouts and a pop-out to right to conclude it.
"We were on our heels most of the time and not on our toes, which is something we're definitely going to have to work on – starting strong and not trying to come back at the end when we're down," Young said. "We need to have more confidence in ourselves and in our teammates to make the plays that's necessary, and be loud in the dugout. Communication's going to be big."
UP NEXT
Bradshaw Mountain (1-1 overall record, 0-1 in region) visits non-region foe Youngker at 3:45 p.m. today, March 3, in Buckeye. The Bears return to region action at 3:45 p.m. next Monday, March 6, at Flagstaff.
Coconino (2-4 overall, 1-0 in region) is scheduled to host Thunderbird at 4 p.m. today, weather permitting, in Flagstaff.