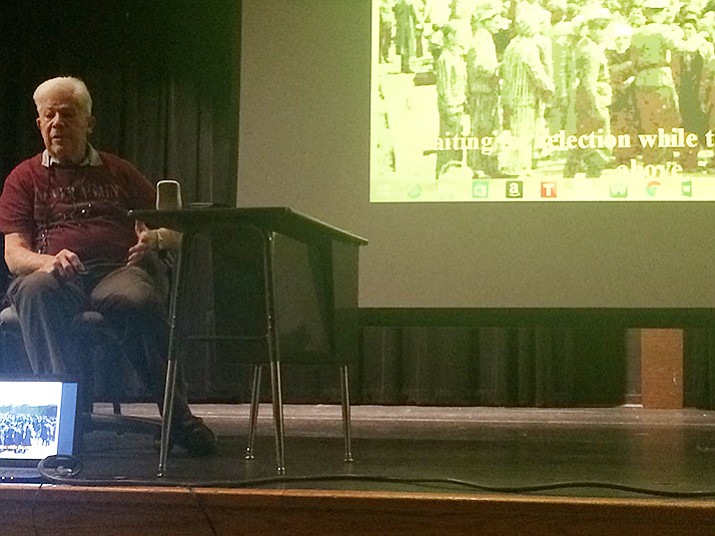 Photo by Jason Wheeler.
Originally Published: March 8, 2017 6:01 a.m.
It was a privilege to be able to speak at Glassford Hill Middle School on Friday, March 3 as there are 11 million innocent civilians who would like to have been there, but couldn't because they were killed in the holocaust, said survivor Stephen Nasser. His own family is included in that number, Nasser said.
Nasser said he was 13 years and living in Budapest, Hungary when the Nazis came in March of 1943, noting 21 members of his family, including himself, were taken away because they happened to be of the Jewish faith. Nasser and his 16-year-old brother worked on major construction in Mülhldorf, a subdivision of Dachau, he said. During that period, people died of starvation, beatings and executions and his brother, Andris, said he felt it in his bones that he would die, but knew that Stephen would live, Nasser said.
Holding up a copy of the diary he wrote at the age of 13 in the concentration camp, Nasser said his brother made him promise that after the war, he would go around and share his story with people, speaking about freedom, family and shaking up the young people.
"They shouldn't take (their families) for granted because the world is very fragile. It happened to us. People should respect their families and they should appreciate what they have," he said, stating it took many years, but he's keeping his promise. "The diary became a book I dedicated to my brother. I have kept to the promise and I have traveled all over … today is my 1,042nd lecture."
Nasser recalled the cattle car on the way to Auschwitz-Birkenau. The people were crammed in and given two buckets, one for water and the other for a toilet, which filled up very quickly, he said. Those standing near the opening covered by barbed wire were asked to take the bucket and try to empty it, but it couldn't be totally emptied and because of the air pressure from the running train, it pushed waste back into the car, Nasser said.
The people were in there for several days and once a day, the doors were opened and they were given a little bit of food and water, Nasser said. They refused to take the bucket, he said.
"I think that was one of the ways they wanted to make our life more miserable," he said, commenting that after a few days, people stopped using the bucket. "By the time we arrived in Auschwitz-Birkenau, it was like sitting in a big toilet. It was very uncomfortable to say the least."
When he and his brother made it to Auschwitz-Birkenau, they were reunited with their mother, Aunt Bozsi and her son, Nasser said. Bozsi tried to keep her child with her, by pretending that he was still nursing, but they were still separated, he said, adding his aunt tried to get the child back by clawing the Nazi's face. She was hit in the back of the head with a weapon, killing her, and the child was killed as well, Nasser said.
When Patton's troops came in and liberated the camp, he was in a coma and according to the doctors, weighed about 72 pounds, Nasser said. After the war, Nasser said his uncle returned from fighting in the Eastern Front, didn't know about the Holocaust and didn't find any of the family. His response was that he didn't know what happened to his aunt and cousin, but said not to expect them back, Nasser said, remarking that he couldn't have told his uncle as it wouldn't have had any purpose and would have only caused suffering. In 1996, after his uncle had died and 50 years after the end of the war, Nasser said he published his diary. His first speaking engagement was in a Nevada high school, he said.
Nasser called the Nazi's bullies and said it's possible there were some bullies among the students.
"Cyber bullying or physical bullying can be very dangerous. Bullies are potential killers," he said. "How many innocent students commit suicide because of being bullied? Far too many."
Bullies are cowards and the crumb of society, Nasser said. Instead of being bullies, they should listen to their teachers, parents, grow up and be somebody that everybody can be proud of, he said.
Valuing family is important as well, Nasser said.
"I'm appealing to you, respect your family. They're still at home alive," he said. "If we lose our freedom, we can lose our family."
Nasser encouraged the students to hug their families and tell them they love them and then to hug them again symbolically because he cannot hug his own.