Photo by Les Stukenberg.

Originally Published: March 9, 2017 6:04 a.m.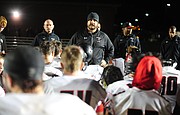 Bradshaw Mountain football coach David Moran will not return to the sidelines this fall after the Humboldt Unified School District Governing Board declined to renew his teaching contract Tuesday night for the 2017-2018 academic year.
Mark Ernster, the school's athletic director, confirmed late Wednesday night that Moran will not lead the Bears football program in 2017 following three successful seasons.
Moran, who guided his alma mater to three straight state playoff appearances and two section/region titles in his stint as coach, did not immediately return phone calls or text messages.
In 2016, Moran earned 4A Grand Canyon Region Coach of the Year honors for leading the Bears to the league title and first round state playoff berth. He guided the program to a 23-12 overall record in three years as head coach.
Moran will finish the rest of the 2016-17 academic year as a teacher at the high school, HUSD Superintendent Dan Streeter confirmed Wednesday night.
Bradshaw Mountain principal Kort Miner hinted in a written statement that Moran did not receive a contract renewal because of a failure to adhere to district standards.
"Our standards of behavior in the Humboldt Unified School District apply to all staff and volunteers," Miner wrote in an email forwarded to The Daily Courier on Wednesday night. "High School interscholastic athletics should be educational in nature. Terms like student-athlete, teacher-coach and educational-athletics should be used in an intentional manner.
"The administration, staff and community expect the highest standards of excellence to be promoted and modeled with regards to academics, personal growth and athletics. When someone is not meeting these standards, we need to make a change so our students are served by adult models who meet the expectations of our community."
On Tuesday night, board members cited at least four reasons why they unanimously decided not to offer Moran a new contract as a physical education teacher in 2017-18.
In an audio recording placed on the district's website, among other things, board members said they did not like that Moran:
• Lacked a permanent, standard teaching certificate. Moran had an interim certificate and was working toward full certification at Rio Salado Community College in Phoenix.
• Received five "letters of direction" and one "letter of reprimand" from school administrators during his tenure.
• Failed to comply with and/or violated policies/procedures at the high school despite being warned by administrators several times.
• Recently received notification from the Arizona Interscholastic Association, the state's high school athletics governing body, about problems within Bradshaw Mountain's football program.
Moran started his teaching tenure at Bradshaw Mountain as a long-term substitute before being offered a full-time teaching position soon thereafter.
But board members said Moran remains an uncertified teacher and that they weren't sure when he was scheduled to complete a semester of state-mandated student teaching. The board added that Moran was cited for missing the district's mandatory new-teacher orientation and training.
Eleven parents, coaches and students went in front of the board to praise Moran for his coaching ability and genuine caring for his student-athletes. Moran also spoke to the board in his defense for a few minutes.
"I am proud of my boys, and I am proud of what I saw from them after school," Moran said. "I have been loyal to the football program, attended their events and encouraged my athletes. I have been a good, loyal employee. I love Prescott Valley and Bradshaw. I care about my kids."
Jason Fonseca, one of Moran's assistant coaches in 2016, said Moran instilled passion in his players and preached the importance of building character, community and family.
"It would be devastating to not have coach Moran around," Fonseca added.
High school parent Tim Young, whose son Timmy started for Moran last fall, said Moran brought "stability" and growth that the program needed to succeed.
Another parent, Tammy Zimmerman, said she had "1,000 percent support for coach Moran." Over the past 20 years in Prescott Valley, Zimmerman told the board that she's seen several coaches come and go at all levels, but that none were more positive than Moran.
"He took the boys under his wing," Zimmerman added. "You would do this community a huge disservice [to let Moran go]."
Bradshaw starting senior lineman Kobey Rushton called Moran "our beloved coach." Rushton said upon hearing the news of Moran's likely departure, he "cried for three reasons."
"I cried for the Moran family, which has given this community tremendous support for 30 years," said Rushton, referring in part to longtime Bears football coach Steve Moran. "I cried selfishly for myself. And I cried for the future of Bradshaw."
Follow Doug Cook on Twitter @dougout_dc. Reach him at 928-445-3333 ext. 2039.