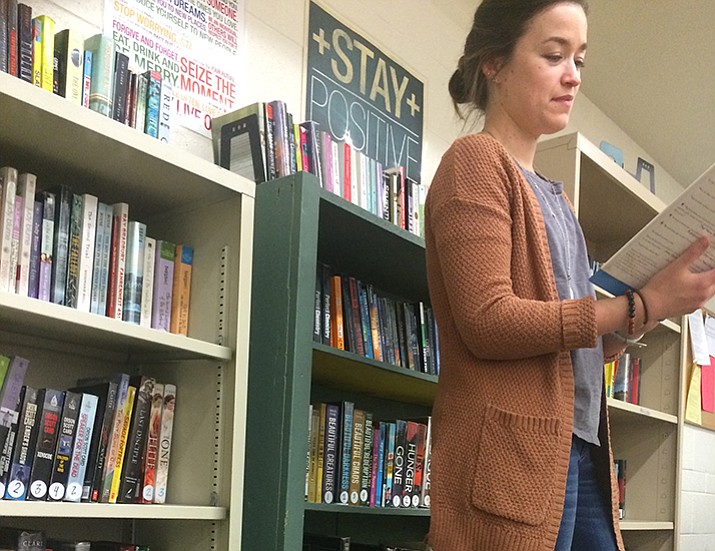 Photo by Jason Wheeler.
Originally Published: March 15, 2017 6:01 a.m.
Back when she was a student, Diane Hamilton said she had some really great teachers in middle school and high school that she points to as those who influenced her to become a teacher. Now in her fifth year of teaching, Hamilton is the eighth-grade language arts teacher at Bradshaw Mountain Middle School, where she won the Teacher of the Year award. She was chosen as the Humboldt Unified School District Teacher of the Year in the seventh- through 12th-grade category at the district's Teacher of the Year banquet on Thursday, March 9.
Being nominated by students for the recognition and then being chosen is really special, Hamilton said.
"It was very surprising and unexpected, she said. "Most days you don't feel like you're doing anything right, but I must be."

Hamilton said she loves getting her students to enjoy reading and seeing kids who read one or two books over the previous year find some good books and read 25 or 30 over the course of a year with her is one thing that really motivates her. Hamilton even has what she calls a classroom library and every one of her 130 students has a book checked out, she said.
That library isn't the only way Hamilton encourages reading as she mentioned her list of book recommendations. It's filled with different genres such as realistic fiction, science fiction and fantasy. Hamilton said she tries to talk about a book every day. The students also set reading goals and they read every day in class for about 10 minutes, she said.
"A lot of teachers aren't willing to give up that time," she said. "But it's so important because a lot of these kids would not read otherwise."
There are times when the students just aren't getting what Hamilton is trying to impart onto them. When those occasions arise, Hamilton said she usually looks at the way she's teaching and reassesses how she can improve as an educator.
In teaching writing and the different technical aspects of putting an essay together, Hamilton said she models those aspects on the board with examples of her own writing. If that's not enough though, she'll show student examples or have her kids work with a partner to try and figure it out, she said. It's all about using the modes available to her, Hamilton said.
Hamilton has had a tremendous impact on her life, said eighth-grade student Reannon Gist, noting that she's always enjoyed reading and writing but her love for the subjects increased dramatically since her first day with Hamilton.
"She always makes it an enjoyable environment to be in. I'm always excited to go to my English class," she said, sharing her essay about why she nominated Hamilton at the Teacher of the Year banquet. "She inspires you to follow your heart and accomplish great things in life. Ms. Hamilton is an inspiration to us all."
Hamilton called Gist an awesome student and commented that she's lucky to have her as a student because she's a talented and nice girl.
When her teaching career started, Hamilton said she was going to give it five years and still see if she wanted to do it. The first year didn't go so well, she said, stating she was teaching in a different district and didn't have a whole lot of support as well as some difficult kids. Then she took a job at Humboldt Unified School District, she said.
"I took this job and decided five years, then I'd reevaluate. "I've reevaluated. I think I'm pretty convinced this is what I'm going to continue with."