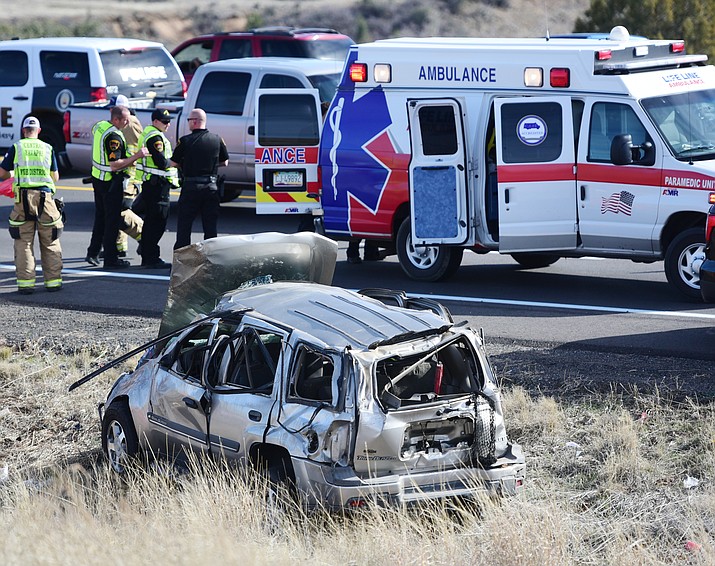 Photo by Les Stukenberg.
Originally Published: March 15, 2017 6:02 a.m.
The driver of a Chevrolet, sport-utility vehicle lost control Friday afternoon while driving west on Highway 69 between Enterprise Parkway and Mendecino Drive in Prescott Valley, killing one of the occupants and seriously injuring the other, police said.
In the ensuing crash — with the vehicle reportedly rolling over seven to eight times — both of the occupants were thrown from the car.
"Both were level one (most serious) and at least one of the victims was flown from the (hospital's) helicopter pad to a trauma center," Central Arizona Battalion Chief Brad Davis said.
Police said the SUV was traveling about 72 miles per hour in the 55 limit zone.
A 44-year-old woman was transported from the scene, but did not survive, said Sgt. Jason Kaufman of the Prescott Valley Police Department. A 46-year-old man was transported via Native Air Helicopter to John C. Lincoln Hospital in Phoenix, with serious injuries. They were identified as Shannon R. Heike of Prescott Valley and Rigoberto Parra, Jr. of Phoenix.
The initial investigation indicated that neither person was wearing a seat belt, Kaufman said.
Parra was released from the hospital on Saturday.
The Arizona Department of Transportation (ADOT) responded to the scene to restrict the westbound lanes of travel on Highway 69 to a single lane during the investigation. The roadway was opened fully at about 6:15 p.m.
The Prescott Valley Police Department encourages occupants of motor vehicles to wear seat belts. Wearing a seat belt is not only the law, but is the most effective way to protect yourself and your loved ones, Kaufman stated in the news release.
Accident investigators are continuing to gather information and are currently looking into this case. Prescott Valley Police are asking for anyone who witnessed the collision, and did not speak with an officer on scene, to contact Officer Matt Cahill at 928-772-5111 or mcahill@pvaz.net.