Originally Published: May 3, 2017 11:30 p.m.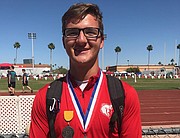 Prescott's Sarah Nguyen won a fourth-place medal in the triple jump at the AIA Division II Track and Field State Championships Wednesday, setting a new school record with a leap of 35 feet, 10 inches at Mesa Community College.
In the evening, Nguyen (pronounced wh-in) placed sixth in the pole vault (10' 3"). Distance runner Matt Bradley medaled in the 3,200-meter run, placing fourth with a personal-best time of 9:35.16. (Only the Top 4 placers in each event receive medals.)
Badgers senior Cade Parker nearly medaled in the discus, snagging fifth (150' 2"). Parker later placed eighth in the javelin with a new school-record throw of 140' 2". In the girls' javelin, Allie Jo Amos also claimed eighth (82' 3").
The two-day D-II state meet ends Friday and Saturday at Mesa C.C. Field events begin at 11:30 a.m. Friday and 1 p.m. Saturday. Running events start at 3 p.m. Friday and Saturday.
BRADSHAW MOUNTAIN
Bradshaw Mountain senior thrower Ryan Shaver placed second in the javelin (179 feet, 5 inches) and fourth in the discus (150' 7"), medaling in both events at the AIA Division II Track and Field State Championships Wednesday at Mesa Community College.
Other state results for the Bears included Jordan Minor finishing eighth in the long jump (22' 6.5"); Bailey Rozendaal taking seventh in the javelin (88'), 12th in the 100m hurdles (16.40 seconds) and 13th in the 300m hurdles (49.02, personal-record time); Noah Shaver nabbing ninth in the javelin (137' 9.5") and the boys' 4x100m relay team registering 17th (43.83).
On the final day of the state meet Saturday at Mesa C.C., Minor will compete in the triple jump and Shaver will do so in the shot put.
At last week's annual Last Knight Qualifier in Avondale, Bradshaw Mountain's 4x100m boys' relay team of Ryan Shaver, Abraham Hernandez, Olijah Sally, Minor and alternate Zion Padilla-Melton qualified for state with a time of 43.57 seconds.
Also at Last Knight, Minor broke his own school record by 6 inches in the long jump (22' 9.25"). Ryan Shaver snapped his father Jason Shaver's 24-year-old school record in the discus (167' 10") with a throw of 171' 11". Jason currently serves as Bradshaw Mountain's head coach.
Follow Doug Cook on Twitter @dougout_dc. Reach him at 928-445-3333 ext. 2039, or via email at dcook@prescottaz.com.