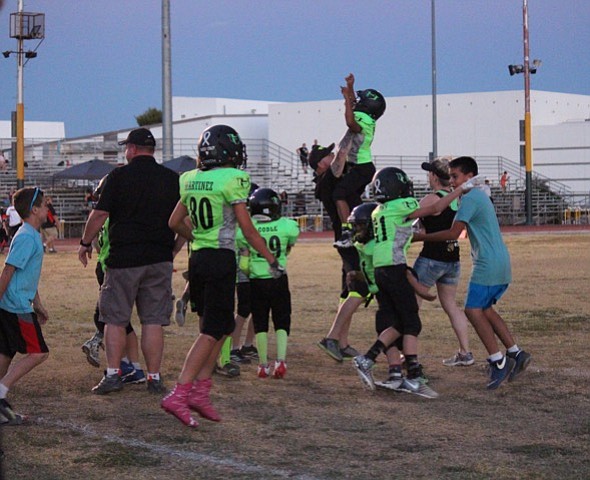 Originally Published: May 10, 2017 6:05 a.m.
The Prescott Valley Hitmen youth football program's 10-year-olds team came from behind to defeat the Surprise Scorpions, 19-18, in overtime of a National Youth Sports (NYS) playoff semifinal April 29, qualifying the squad for the NYS Championship game, which they lost on May 5.
In the title contest, the Hitmen succumbed 12-0 to the Westside Fury of Phoenix at Greenway High School.
On April 29, the Hitmen trailed the Scorpions 12-0 with two minutes left in the game, but scored 12 unanswered points to tie it and later won in OT.
The Scorpions, who beat the Hitmen in the regular season, led 6-0 at halftime and expanded their edge to 12-0 in the third quarter.
With two minutes left in regulation, the Hitmen rallied and scored a touchdown, cutting the deficit to 12-6.
After an onside kick failed, the Hitmen's defense stuffed the Scorpions, not allowing them a first down. The Hitmen used all of their timeouts on defense to piece together a final drive.
They ran their hurry-up offense, marching the ball 70 yards downfield with less than a minute left. On the last play of regulation, the Hitmen scored a TD for the tie. But the Scorpions denied the extra point, sending the game to OT.
In the first possession of the extra session, the Hitmen scored a TD on fourth down and converted the extra point for a 19-12 lead. The Scorpions got a chance to tie.
They scored on a passing TD to cut the deficit to 19-18, but they missed the extra point, which ended the game.
The Hitmen competed in the Phoenix-based NYS' semifinals with only 12 players after shutting out the Diablos, 30-0, in a first-round contest April 22.
They played so-called iron-man football in the semis, as none of their players came off the field for a break.