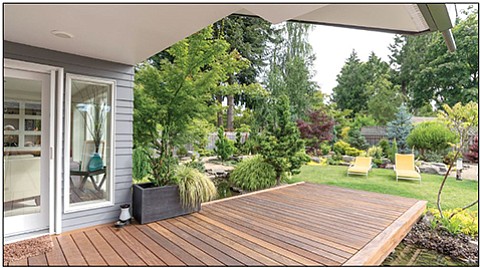 Originally Published: May 17, 2017 6 a.m.
We are in the process of doing some upgrades in our home, and curious as to the return on investment for outdoor projects. With spring in the air as they say, we want to take a deep dive into some yard improvements. What are your thoughts? — Bernie and Lois, Prescott.
We talked to several local landscapers about outdoor remodeling projects, the value of taking on such projects, cost recovery on the outdoor projects if they choose to sell their home and even how much appeal each project is likely to have for buyers.
Most of our landscapers ranked standard lawn care as the number one project that appeals to buyers and in the cost recovery of lawn care and good curb appeal has a return on investment of more than 200 percent of the cost estimated by landscape professionals for their services. An overall landscape upgrade, new patio, new deck, and hardscape upgrade all rendered roughly 100 percent in cost recovery.
The National Association of Landscape Professionals e-mailed a survey to their 2,113 member companies and the landscaping remodeling/improvement rank of best appeal to homeowners for cost recovery and selling attributes were ranked as follows (highest to lowest):
Having a standard lawn care program; trimming, trees, mulching, planting, tree care, flowers; 2. Landscape upgrade in small areas of the lot; new rock, new plants; 3. Overall landscape upgrade; entire re-do, trees, plants, retaining walls; 4. Covered patio; shade covering, decorative concrete; 5. New wood deck; composite material, enlarged if possible; 6. Hardscape; pavers; 7. Outdoor fire pit; 8. Outdoor fireplace; 9. Sod; 10. New pool.
Let's move from landscaping cost return on investments/improvements to a topic that is near and dear to my heart. Hiring contractors is scarier than the movies … especially when you have no idea who to call. Every week I hear the stories, like the ones below:
A homeowner wanted the exterior of his home painted. He did not obtain any bids, just used the "licensed" fellow that was recommended by a friend of his neighbor. The cost of the exterior painting was $4,500. After 1.5 years, the paint is washing off and fading. The "licensed" contractor is an unlicensed entity and per Arizona State Statutes can legally charge $999.99 for services rendered, based on the overall cost of the project. YCCA assisted the homeowner in filing a complaint with the ROC for unlicensed work and eventually should be able to recover some of his money.
Moral to this story — obtain bids and verify if the contactor has a licensed.
The next issue involved installing a retaining wall. The homeowner contacted two local licensed landscapers and then saw an advertisement in a local publication for landscaping services. Yes, you guessed it the homeowner went with the lowest bid, which was the unlicensed entity. The unlicensed entity asked for a $5,000 deposit on a $9,000 job and to top it all off, the owner did not obtain a contract, nothing in writing to define the limits of the job and paid cash. The other two estimates for the job ranged from $15,450 to $16,850. This was a low-ball bid which should have sent up a red flag. And even more of a red flag, the phone number for the advertiser was a cell phone – no established business.
Moral to this story – obtain bids, check the license and with unbalanced bids like this, there is an issue.
So how does one hire a contractor?
Be cautious when asking your friends because many have hired unlicensed entities without knowing. I have said this before, not all unlicensed entities are "bad." Not all licensed contractors are "good." Do your homework.
Once you have a list of contractors, verify their license status and if they have any complaints against them.
Call former clients to find how their project went and ask to see the finished product. Even more important, visit a current job site and see for yourself how the contractor works.
It's important to verify with the permitting jurisdiction that you live in if a permit is required for the work being performed. Most building projects even minor ones usually require building permits and inspections. If your project is not permitted or does not comply with building code, you will probably be ordered to either remove the structure or bring it up to code. You will almost certainly have to correct the issue if and when you try to sell your home.
Verify insurance. You can't afford for someone doing work on your home without insurance. If they're injured or destroy your property and not insured, the bill comes to you. Make sure any subs that are used are licensed as well. Most homeowner's policies require that any work done to the property is done by licensed contractors.
Always obtain quotes and detailed estimates in writing. Verbal contracts are worthless in court should things go wrong.
A conscientious contractor will sense what the homeowner wants out of a project and what they plan to spend. It's enormously important to compare apples to apples when you're reviewing quotes so you can ask questions like "Why are you using 50 percent less materials than the other three contractors I've gotten quotes from?"
All bids should be balanced and if there is a "lowball bid" there is an issue.
Draw up a contract that details every step of the project: payment schedule; a start date and projected completion date; specific materials and products to be used; and a requirement that the contractor obtain lien releases (which protect you if he doesn't pay his bills) from all subcontractors and suppliers.
If any changes are made to your project, ask for the changes in writing.
If a contractor insists that you pay a large deposit or the total bill before the work even starts, that is a red flag. Never pay in cash, make checks payable to the licensed contractor (not an individual), and never allow payments to get ahead of the work.
We ask that you familiarize yourself with these issues to better your chances of hiring the right contractor. If you select your contractor carefully in the beginning, you are less likely to have problems later. While screening contractors may seem more work than the project itself, the effort can save you enormously in money, annoyance and time.