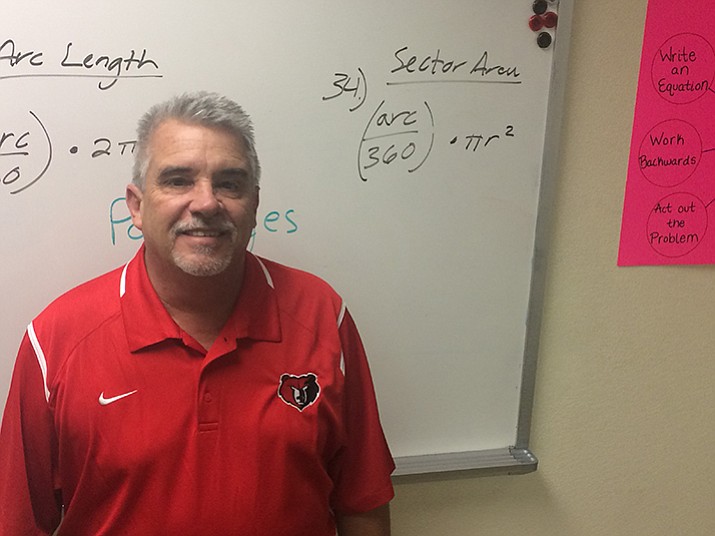 Originally Published: May 17, 2017 5:58 a.m.
Bradshaw Mountain High School math teacher Stephen Ross said he always wanted to be a teacher, it just took him 35 years longer than he expected.
"When I first started college, I wanted to get my math degree and teach. Unfortunately teaching doesn't pay real well and so I had a professor who convinced me to go into engineering," Ross said, noting he had six children and raising a family of that size would have been difficult on a teaching salary. "But I always wanted to do it."
About 10 years ago, Ross said he and his wife made a plan that involved him retiring from his engineering job and using the last few years of his career to get certified to teach so it could be a straight transition from retirement to teaching. Doing it because he loves it, Ross said he's living the good life. Recently, he was chosen as the outstanding first year teacher by the Yavapai County Education Foundation.
Looking back on that first year, Ross said the hardest part wasn't the math, it was the classroom management and getting the kids engaged in learning. While he's getting better, there's a lot of work to do, he said, commenting that he can use examples from his career in engineering to get students interested.
"I'd worked on missile projects for a long time and they've asked me what it's like to be a missile engineer or a rocket scientist," he said. "That said, there's still a lot I need to learn about interesting lessons. How do you engage the young minds? It's still a challenge for me."
Despite that challenge, Ross said he's had great support at Bradshaw Mountain High School from other math teachers helping him with his planning and lessons to the administrative staff who have provided a lot of ideas on how to reach the kids. The thought process of knowing math means you can teach it isn't true, he said. Rather, it's all about engaging lessons and different learning styles to reach the students and get them interested.
One such teacher that Ross said has helped an incredible amount with the subject matter is Douglas Beilfuss. He's also helped him how to deal with being a teacher and not to get too high or low when he's had a great day or when test results aren't exactly what he's looking for, he said.
Beilfuss called Ross a good addition to Bradshaw Mountain High school as he just fit right in. Though not everyone can be a teacher, Ross has the right temperament to deal with high schoolers and gets along really well with his classes, Beilfuss said.
What's more is Ross gives his fellow teachers a fresh perspective, he said.
"We all bounce ideas off of one another," Beilfuss said, noting that Ross "makes us think about why we do what we do."
Appreciative of the recognition from the county, Ross said he feels like he still has a lot to learn. Even so, the first year has been a good and enjoyable year, he said.
Ross said he fully intends to teach for as long as it remains fun for him. There are good days and bad days, but his wife said she's never seen him smile more, he said. Reaching someone who was hard to reach or getting one person engaged when they weren't earlier in the year is worth everything he's put into it, he said.
"It's really about the students," he said. "Hopefully, next year, I'll reach a higher percentage and after that get almost full engagement."