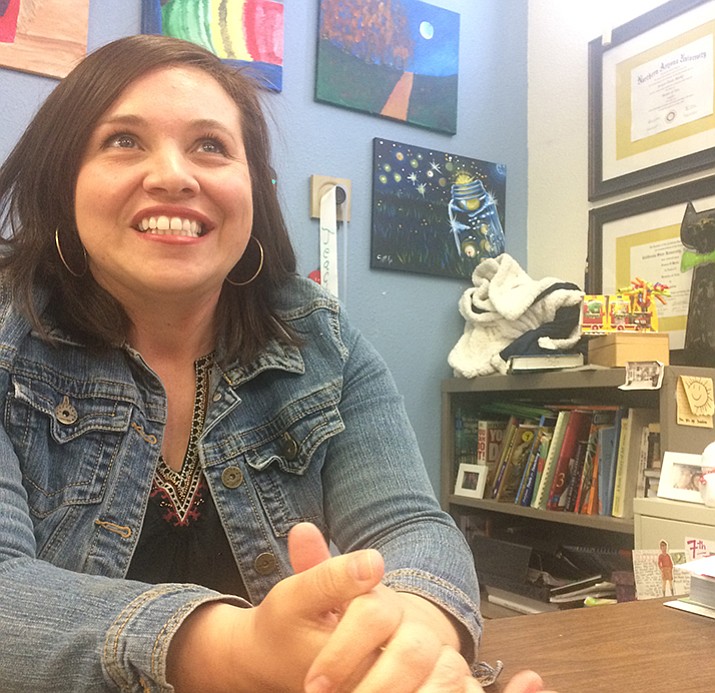 Originally Published: May 17, 2017 6 a.m.
Back when she was a journalist, Glassford Hill Middle School seventh and eighth grade language arts teacher Jessica Marks said she used to write about schools. However, instead of it being a look at how great schools are, she found it to be too political for her tastes.
"I just didn't want that to be my whole life … I had seen some really cool teachers doing really cool things," she said, noting that she really wanted to help the kids who society deems as the "bad kids." "I went back to school and those are the kids that I really wanted to help."
Having taught since 2009, Marks said she is finishing up her eighth year of teaching and recently she was named teacher of the year by the Yavapai County Education Foundation.

There are some days she can't believe she gets paid to do the job, Marks said, commenting the enjoyment she gets from being a part of watching learning happen. The kids come through her door not knowing something and when they leave, there are times she can see them understanding that new concept, she said.
"I feel like we're doing magic sometimes. I can't believe I get to be a part of that," Marks said. "I get to take these kids, I get to care for them and then I get to watch them become better."
Goofy and honest, Marks said she shows the kids that she's relatable as a person and does all sorts of different things for the lessons inside the classroom to make learning matter. For instance, there was one unit on figurative language and instead of having them write an essay, Marks said she made them create cards for veterans at the VA hospital. On one card, they had to write or find a poem and put the rhyme scheme in it and in another, they had to write a note with an extended metaphor, she said, mentioning it's all about making sure they know what they do in the classroom has real world value.
There was another time, back when she was working at the Arizona Agribusiness and Equine Center that the lesson was on persuasive language, Marks said. The students weren't doing such a good job at being convincing with ethos, pathos or logos, she said. As such, she contacted the Yavapai Humane Society for dogs not being adopted and had the kids get the dogs adopted using the persuasive language. Some were adopted, Marks said.
"They worked really hard for the dogs to get them homes when they might not have been so willing to do that for an essay," she said. "I just work really hard and I want the kids to know what they do matters."
When you touch a kid or two these days, there's no telling what you'll be able to do with them, Mark said, remarking that giving up on them means giving up on their life. However, when you give them some skills, it gives them a chance to be better and have a better life, she said.
Marks said she also loves her fellow teachers, even though fellow teachers can get pretty competitive in school.
"You want your scores to be the best, but I feel like when we help our other teachers, they're the ones helping all the kids," she said. "Why would I keep something that makes me successful all to myself?"
Marks' greatest strength is in how she cares for each and every one of her students, said seventh and eighth grade honors math teacher Brian Tubera. She goes beyond the curriculum that the teachers have to teach, cares for her students' daily lives and what they do outside of school, he said.
Not only does she extraordinarily go above and beyond that for her students, she's also there for all of her fellow teachers, Tubera said.

"Whenever we're having a bad day, or me especially, whenever I need advice on how to handle certain situations, I know she's always there for me," he said.
Looking to the future, Marks said she'd like to help teachers become better teachers and adults how to be successful teachers.
"That's how we do the most good," she said. "I can help one kid at a time or I can help a teacher who's going to help multiple kids at a time. I think that's the next step for me."