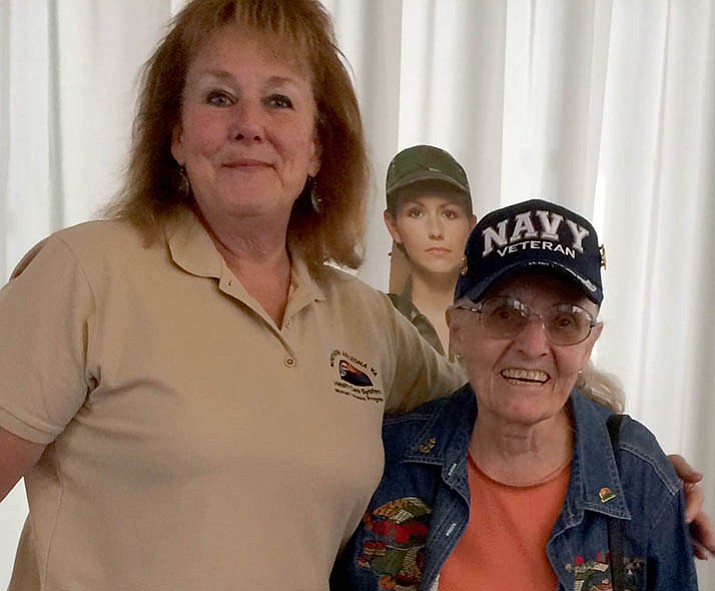 Originally Published: November 8, 2017 5:55 a.m.
Navy veteran Mary Guertin walked through the Veterans Outreach program at the Prescott Valley Public Library Tuesday, Nov. 7, and ended up at the last booth, one for women veterans, where she accepted an invitation to ride in the Veterans Day parade float for women veterans.
Guertin joined the U.S. Navy in 1959, serving in Newport, Rhode Island, until she married and moved to California. She hasn't always admitted to being a veteran.
"We were kind of looked down on," she said about those in the military, generally speaking, at that time.
Women Veterans Program Manager Susan Johnson-Molina said people were not always kind to Vietnam War-era veterans. That has changed, and more and more women are entering military service. There used to be a 3 percent cap for women post-World War II; now 20 percent of all recruits are women, she said.
Johnson-Molina offered Guertin, a Prescott Valley resident since 1992, a seat on the women veterans' float in Saturday's parade in Prescott.
She also mentioned how the Veterans Administration recognized in the late 1990s that it needed to improve women's care to offer equitable, high-quality and timely health care.
For more information on the VA's Women Veterans programs, call Johnson-Molina at 928-445-4860 ext. 6688.