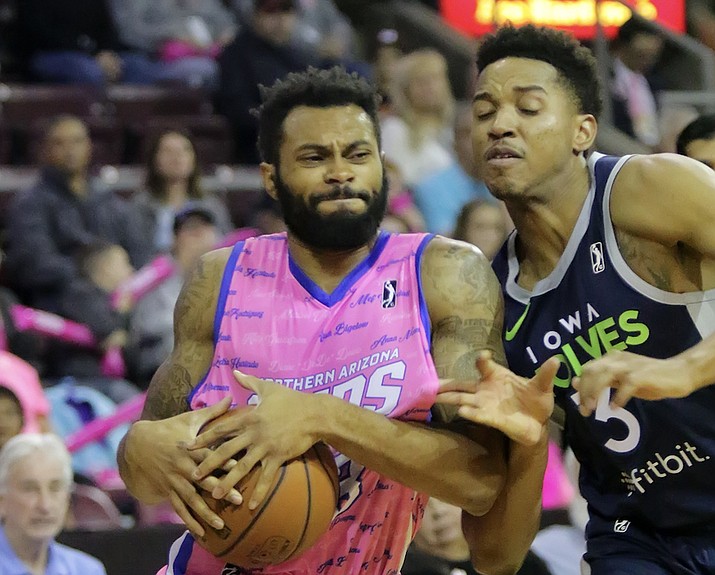 Originally Published: November 12, 2017 1:08 p.m.
In a back-and-forth affair against the Iowa Wolves Saturday night in NBA Gatorade League play, the Northern Arizona Suns needed overtime to settle their two-game series at Prescott Valley Event Center.
Suns guard Askia Booker scored a game-high 34 points, draining six 3-pointers, and affiliate player Derrick Jones Jr. registered 24 points, 13 rebounds and three blocks, leading the hosts to a 124-119 victory and improving their record to 2-1.
Booker said it took "mental toughness" to pull out the victory in the extra session.
"The G League's going to be a battle every night – anybody can win on any given night," he added. "So, as long as we're mentally tough… we cut back on our turnovers a little bit tonight and rebounded the ball much better. We did that in overtime and came out with the win."
Forward Rahlir Hollis-Jefferson also had a double-double with 20 points and 11 rebounds, including three blocks, to help pace Suns. Center Anthony Bennett added 17 points and guard Josh Gray came off the bench to notch 12 points and eight assists.
Former Northern Arizona (2-1) star guard Eli Millsap, who led the team in scoring last season and was ultimately traded from the Suns organization to the Timberwolves organization, scored 19 points and grabbed six boards in a heated return to Prescott Valley.
Northern Arizona lost its 2017-18 season opener to the Agua Caliente Clippers at home Nov. 4, but edged the Wolves, 141-140, in a thriller on Nov. 9, and capped it off with Saturday's narrow victory on Breast Cancer Awareness night. With the losses, the Wolves' record dropped to 1-3.
"We saw that, in stretches, we can be really good," first-year coach Cody Toppert said. "We need to find consistency and effort that's going to sustain us through bad possessions, which there's going to be."
Jones, who was reassigned to the Suns' G League affiliate for the third time this week on Saturday, continued to show why he's a fan favorite – skying for multiple dunks, swatting away shots and drilling clutch shots from deep.
Toppert certainly took notice.
"Derrick is a special talent; there's no question about it," Toppert said of Jones. "It's our responsibility to have him continue to develop and put him in situations where you've got to make decisions – whether that's defensively or offensively. For him, it's also about sustaining effort."
On Saturday, the Suns and Wolves were tied 30-30 at the end of the first quarter. But the Suns went on a 17-3 run, capped by Gray's back-to-back buckets with 7 minutes left in the second period to go up 47-35. Northern Arizona turned steals into hoops in transition in that spurt, but the Wolves would battle back to pull within one by halftime, trailing only 57-56.
The game continued to go back and forth in the second half, but Iowa went ahead, 84-81, by the end of the third period. Knotted at 102-102 with 6:40 left in regulation, the Suns went on a 9-3 spurt, capped by a Booker 3-pointer to push ahead, 111-105.
However, Wolves starting forwards Anthony Brown (33 points, 10 rebounds) and Amile Jefferson (27 points, 17 rebounds) led a charge down the stretch with Millsap's help. After Brown scored underneath with 40 seconds to go to cut it to 117-115, Millsap later tied it with 16.8 seconds left. NAZ had the final possession, but Gray couldn't convert underneath as time expired.
"I got to where I wanted to be in the paint – I missed it," Gray said. "There was a couple of them [shots] that I normally make that came out. I've got to do a better job coming off the bench and catching my rhythm."
The Suns had the last laugh in overtime, outscoring the Wolves, 7-2, for the win. Jones drained the shot of the game, a 3-pointer from the left side with 45 seconds left that turned the tide.
"I'm just taking advantage of playing – being able to work out every day and putting everything that I worked on in my workouts in a game situation," Jones Jr. said.
Gray's layin with 14 seconds put the Suns up 122-117, and Gray converted two free throws with 11 seconds to go for a 124-117 lead. Millsap would score with 8 seconds left, but it wasn't enough, as the Suns ran out the rest of the clock.
FOR A GOOD CAUSE
At halftime, Yavapai College and Embry-Riddle's volleyball teams presented a check of more than $6,700 to the Yavapai Regional Medical Center (YRMC) Foundation to benefit the foundation's efforts to prevent breast cancer.
UP NEXT
Toppert, who spent the past two seasons as an assistant for the 2017 NBA G League runner-up Rio Grande Valley Vipers, will lead the Suns against the Vipers at 6 p.m. Tuesday in Texas. The game will be streamed over the internet on Facebook Live.
Doug Cook is a sports reporter for The Daily Courier. Follow him on Twitter at @dougout_dc. Email dcook@prescottaz.com or call 928-445-3333, ext. 2039.