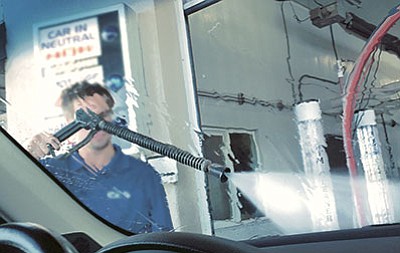 Originally Published: October 4, 2017 6:02 a.m.
Only one person spoke during the public hearing on the Prescott Valley Town Council's intent to raise water rates on Sept. 28, and she asked council members to wait and reconsider the issue in a month.
Others in the audience applauded afterward and said she spoke for them.
Sandy Griffis, executive director of Yavapai County Contractors Association, said she is concerned that the town is making a decision based on assumptions as the need for an increase is based on a "moving target."
"I understand the water rate increase, but I have concerns," she said. "If we're not using water, you're not getting revenue. And we had a wet winter."
Griffis pointed out that the town increased water rates by 2 percent two years ago, zero last year, and now it is asking for an increase of more than 4 percent.
"I'm also really concerned that some of the capital improvement funds are in there," she said. "Let's re-look at some of these assumptions and see if we can't do anything to get this difference down to maybe 3.5 or 3 percent. Why is it over 4 percent?"
Also, she mentions that the town will have its debt service paid off in three years. She asked if this increase means the town will have to give refunds to its water customers. With all the "rooftops" coming into town, the number of water users will increase, as will revenue.
"Huddle together with your team. Come up with more palatable increase for your users," she said.
In the end, with no other discussion, council unanimously voted 6-0 to approve the resolution revising water rates, fees and service charges. Council member Lora Lee Nye was absent.
The effective date of changes will be the first billing after Nov. 1 when water usage rates will go up an additional 13 to 21 cents per month.