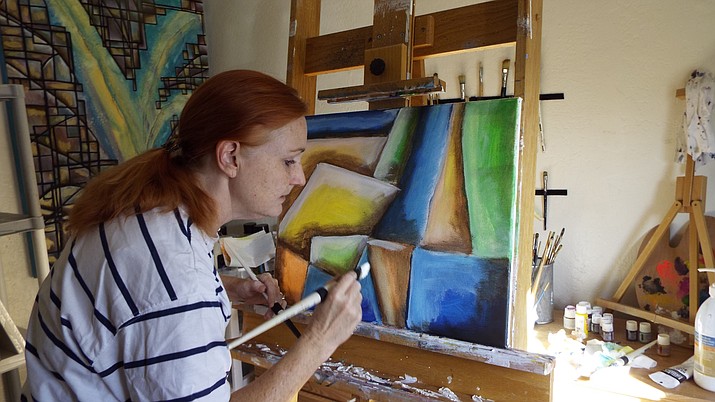 Originally Published: October 4, 2017 6:04 a.m.
This year's Prescott Area Artists' Studio Tour is going to be so much fun, said Prescott Valley artist Annessa Morrison.
Showing at the Prescott Valley Public Library third floor Crystal Room, Morrison said this is her second year as a part of the tour while last year was her first show ever.
"It was so much fun last year and the other artists there are so tremendous and talented," Morrison said, remarking that arts and entertainment is run very well in Prescott Valley. "Why wouldn't I want to be a part of something as beautiful and enlightening as that?"
Five years ago, Morrison said she was disabled by an illness and found her way back using art as a source for healing. After getting back on her feet and moving to Prescott Valley to be near her parents, she decided to create art for the purpose of healing, she said. Her medium is oil painting.
Morrison is just one of nearly 100 artists featured in this year's Prescott Area Artists' Studio Tour, with 60 in private studios as well as 38 additional artists in four art centers: the Mountain Artists Guild, the Prescott Center for the Arts, the 'Tis Annex Art Education Building and the Prescott Valley Public Library. It's a free and self-guided tour that can start at any location, offering a chance for the public to meet the artists, learn about their techniques and purchase art. Hours are 10 a.m. to 4 p.m. Friday through Sunday, Oct. 6-8.
This year marks 10 years for the studio tour, said Studio Tour Committee Chair Deanne Brewster. For every one of those years, the committee gets feedback from both parties to see where it can improve, Brewster said, commenting that the website has been improved this year.
"It's the best it's ever been this year and we have profiles of each of the juried artists," she said, also commenting about the improved brochure. "When we first started 10 years ago, it was a poster that we folded up and mailed … it's now a booklet brochure. Much more extensive."
Another participating artist is Charlotte Ewalt, whose medium is jewelry. It's her third year doing it, Ewalt said, noting that she really enjoys being a part of it.
"It's just a really good community event," she said. "It's a chance to display your artwork and meet the public. It's all fun."
In the three days the tour is held, Ewalt said she and her husband usually see around 250 to 300 people coming to the studio located at 687 Sixth St., Suite 108, which is quite a bit more than usual.
One of the key aspects of the studio tour is education, Brewster said, remarking that the tour is unique in allowing the public in to artists' private spaces where they can share what it takes to do what they make. Further, each artist demonstrates some aspect of how they do their art, which gives the public an idea of what it takes to do what they do and experience the artist's personal space, she said.
"It's so different than going to a gallery and looking at art. You come into our space and you see the kinds of tools we use and the process that we go through," Brewster said. "It's an opportunity to share our stories about where we got our ideas and things like that that make it the most worthwhile for a lot of us."
With all the people who come and check out her art as well as others, Morrison said she sees it as an opportunity to talk with those who are interested in the art and if they like the direction she's taking. Her current direction is a lot different than last year and she gets good face-to-face input from the people who come, she said, mentioning it's difficult for her to get a good idea of what's happening with the younger crowd.
"What better place and chance to sit down and talk to them to see what's trending now, what's going to be able to get that message out there of people healing themselves through art."
For more information about the Prescott Area Artists' Studio Tour as well as featured artists and art centers, visit www.prescottstudiotour.com.