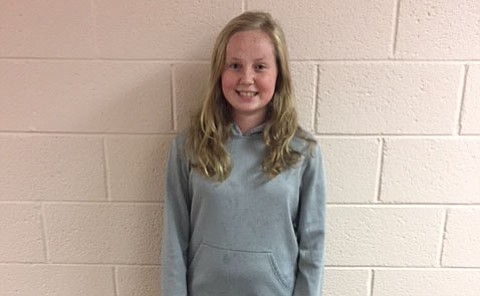 Originally Published: October 11, 2017 5:55 a.m.
Reagan Puckett is a sixth-grader at Mountain View Elementary in the Humboldt Unified School District who was just elected student council president. She aspired to move into the presidency after a year learning the ropes as vice president.
Her favorite subject at school is science due to the endless things she can learn aiding her quest to be a veterinarian. She loves being a big buddy in our Buddy program, working with a student with special needs. She stated that she met him in fourth grade when she helped out in Mr. Lewis' room. Reagan knew exactly who she wanted to buddy up with ever since.

In her spare time she loves to read books written by Doreen Cronin. She is the third oldest in the family with one brother and two sisters. On the weekends her favorite thing to do is spend time with her dog, friends and family. According to her teacher, Miss Hewston, Reagan is the only one that has received straight A's this quarter. Reagan is an outstanding student who strives to treat everyone with respect.
Information and photo from HUSD.