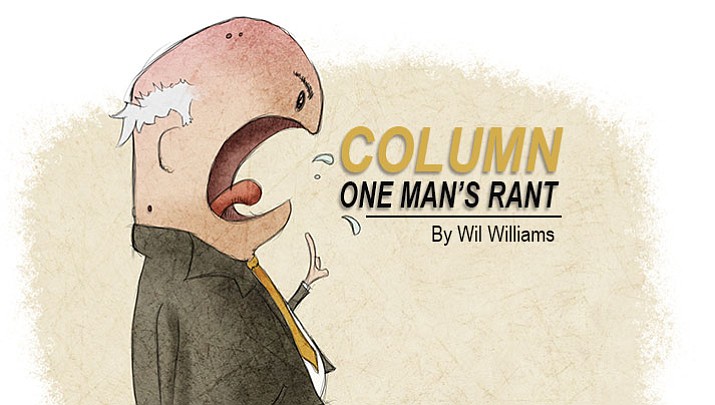 Originally Published: October 11, 2017 6:02 a.m.
I've been a fan of the NFL since those wintry Sunday afternoons in the early 1950s when I watched frigid televised football games with my dad in Fort Wayne, Indiana. Our TV reception wasn't great. There was as much snow on the screen as on the 50-yard line. Those were football games of original intent — it was pure football and in bad weather the players' uniforms became so muddy and stained, it was hard to identify the players inside them.
My frustration with the NFL started in the 1980s. On at least two occasions, wealthy team owners and wealthy players squabbled resulting in canceled games and replacement players. And there were times over the years when I was further irritated with the league as it repeatedly allowed players with multiple drug and other legal violations back onto the gridiron.
The current national anthem standing or sitting kerfuffle could have been solved the first time Colin Kaepernick refused to honor flag and country in 2016. When he chose to demonstrate his ignorance on bended knee, he was damaging the NFL brand while in uniform. That was sufficient justification for suspending him or worse.
There is evidence that player protests are hurting TV ratings for the NFL, such as the 11-point drop in viewership in the four weeks following Kaepernick's initial protest last season.
Football players are employed by teams to do one thing — play football. If any football player, while wearing the team's uniform and representing the team, participates in any activity that negatively impacts the image of the NFL or its respective teams, the league has the right to punish the player as described in the NFL's operation manual.
The operation manual says that if players don't stand and respect the National Anthem, those actions "may result in discipline, such as fines, suspensions …" among other disciplinary remedies.
When I was still working, if I made political statements to clients or in some way delivered political messages to clients, I would have been reminded that my job was to serve clients and to help grow the business. If I persisted in creating a political atmosphere while on the job, I would have been fired.
Discouraging players from political protests during a game doesn't deprive them of their freedom of speech. They have the right to exercise their personal opinions before the game, after the game, before practice, after practice, during the off season, in the grocery store, in a drunken stupor, in a convention hall. You get the point.
I would suggest that if football players are serious about their grievances, they work diligently with and support social justice groups in their spare time, speak to audiences around the country, contact their local and federal representatives, or write editorials to articulate their concerns. My message to NFL athletes: If you wouldn't disrespect God or church, then you shouldn't disrespect our flag or country.
Merely sitting during the national anthem tells me that participating players don't fully understand (and can't communicate specifically) what their concerns are and depend solely on their celebrity to get attention. It also tells me they are lazy and not willing to work for their convictions.
I tune into a ball game to watch football. Period. I don't want a misguided political attitude from athletes in the NFL, or in any other sport.
I'm amazed that the NFL who brilliantly built the most popular sports institution over the past 75 years, now seems incapable of managing its own game plan. This 60-year fan will soon decide whether to continue watching the NFL on TV.
To comment on this column, email wilaugust46@gmail.com.