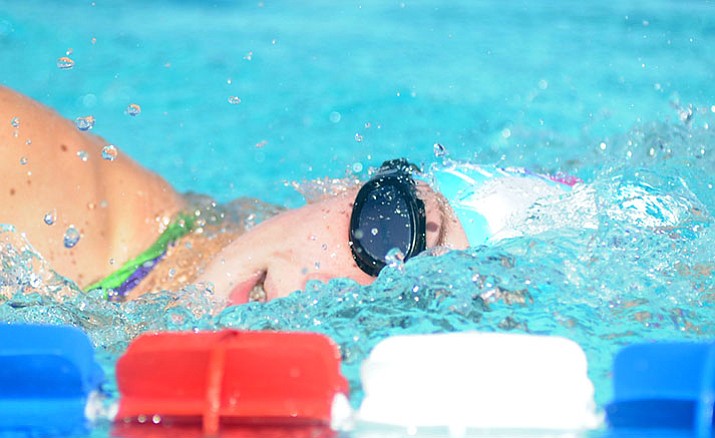 Originally Published: September 6, 2017 6 a.m.
This fall, Bradshaw Mountain first-year swim coach Russell Morrison won't possess the depth that the program has had in recent years. However, he does have plenty of talent to mold, and that should bode well for the Bears in the future.
AIA Division II Bradshaw Mountain begins its 2017 season at 4 p.m. Thursday, Aug. 31, when the varsity squad hosts Willow Canyon at Mountain Valley Splash in Prescott Valley. Morrison, a special education teacher, takes over for longtime coach Patti Eller, who retired this past spring.
"Of course I want to see them [our swimmers] improve week to week," Morrison, formerly a Bears assistant coach, said from practice this past week. "But with so many young swimmers, I understand that the best is yet to come with many of my young swimmers."
On the girls' side, Bradshaw Mountain has 14 swimmers, but only two of them are seniors. Junior Renee Baillie and senior captain Liesel Stoxen lead the way. Baillie excels in the individual medley (IM) and the sprints, while Stoxen does so in the backstroke, freestyle and IM. And as for the relays?
"We're definitely trying to get a girls' relay team going [in the 400-meter freestyle]," said Stoxen, who's on the relay team with Baillie, which needs two more swimmers. "In the next couple meets we'll experiment and put a couple girls in here and there and see which ones work."
Senior Hennessy Villa (freestyle, sprints), junior twins Leigha and Hannah Campbell (breaststroke and butterfly, respectively), and talented first-year varsity junior Jordyn Bassford (freestyle, backstroke) will contribute. Lucy Stoxen (IM), Liesel's sister, and Hayden Folk will compete as freshmen.
"She's a very good prospect for the team," Morrison said of Lucy. "She's an up-and-comer."
Liesel said the girls should be "a better sprint team" than in the distance events.
"We're very strong in our 100s and in our 50s," she added about the sprints.
On the boys' side, Bradshaw Mountain graduated Mako Bennett, a freestyler who guided the Bears to a 20th place finish out of 34 teams at the Division II State Championships last fall. Junior Parker Bennett, Mako's younger brother and another strong freestyler, decided not to swim, as did a few other solid swimmers this season.
"Unfortunately, we lost a lot of talent from last year to this year," Morrison said of his boys' squad, which has three seniors on its 2017 roster of nine swimmers. "We had a lot of kids not come back for various reasons."
Minus the Bennett boys, the Bears will lean on seniors Gavin Shouldts and Kevin Moore, the team captain. Morrison calls Shouldts an "amazing breaststroker" in the 100m, and the sprinter Moore a "solid point-getter" who excels in the backstroke and in the backstroke portion of the medley relay.
"We really hope to see him get to states this year," Morrison said of Shouldts.
Sophomore Joshua Baillie, a member of Bradshaw's standout 400m freestyle relay team that placed 15th at state last fall, also returns. Morrison said he believes Baillie will break the school record in the 500m in 2017. He likes Baillie in the individual medley (IM), too.
"We have a pretty well-rounded team," Moore added. "Russ is really, really good with the one-on-one teaching with swimming."
Along with Shouldts, Morrison said Josh and Renee Bailey both have a shot to qualify for the D-II state meet, scheduled for Nov. 3 and 4 at Skyline Aquatic Center in Mesa. The Top 32 swimmers in D-II for each individual event reach state.
Bradshaw Mountain's swimmers focus on building their strength and conditioning in the first two months of the season to get into race shape and improve their times. They then cut back on practice time toward the end of the campaign to regain their stamina and energy for the stretch run.
"I want to see them get faster [with their times], come together as a cohesive unit and make a solid team in two, three years," Morrison said. "I expect to see some dynamite stuff."